'Transformers 3' Filming On NASA's Discovery This Week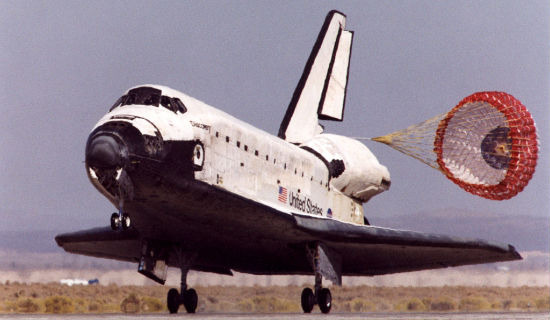 We already knew that the space race between the United States and Russia was going to be a major plot point in Transformers 3. But leave it to director Michael Bay to take that fact to a whole new level. Next year's blockbuster 3D sequel will be shooting on and around NASA's Discovery space shuttle at the Kennedy Space Center in Cape Canaveral, Florida beginning Wednesday. We've already seen photos of the production, which stars Shia LaBeouf and Rosie Huntington-Whiteley, in Chicago and Los Angeles and, with Discovery being prepped for a November 1 launch, the huge scope of the film is once again coming into focus.
Transformers 3 is scheduled for release July 1, 2011. Hit the jump to read everything we already know about the film as well as more details on the Discovery shoot. The Transformers Live Action Movie Blog first discovered the story on the NASA Space Flight website that detailed the plans for the shoot. Here are some choice quotes:
Flashes and bangs of a different nature can be expected at the pad over the coming days, as movie crews film scenes for the Hollywood blockbuster Transformers 3, with Saturday processing information noting work to support filming should proceed as planned over this weekend.
Scenes are expected to be shot at Pad 39A on Wednesday – understood to be timed with Discovery being on show with the RSS retracted, meaning the Shuttle may gain herself some credits in the movie.
Hundreds of extras have received security clearance to be in the grounds of KSC during the filming, while Cape Canaveral sources noted Atlas and Delta resources will also be involved in some scenes. Director Michael Bay had previously filmed at KSC during the making of Armageddon – which involved scenes with Atlantis and Endeavour.
And, in an article from a few months ago, Peter summarized everything that we know so far about the film:
Final confirmation that movie will be released in 3D. No word on if it will be shot in 3D or converted in post. Knowing Bay's obsession with film, I'm assuming he agreed on a post process.
The villain in Transformers 3 is "Shockwave, the robot cyclops-turned-laser-cannon, who became dictator of their home world of Cybertron after the other Autobots and Decepticons journeyed to Earth." Makes sense.
Bay claims "One thing we're getting rid of is what I call the dorky comedy" adding the The Twins are "basically gone" but comic relief John Turturro returns. Bay's "basically gone" comment seems to confirm that they have a short appearance in the film.
In the new film Sam Witwicky is "taking his first tenuous steps into adulthood while remaining a reluctant human ally of Optimus Prime. "Shia has this great line: 'You know, I've saved the world twice, but I can't get a job.'" Okay, so Transformers is never gonna get a screenplay nomination at the Academy Awards.
The plot also "delves into the space race between the U.S.S.R. and the USA, suggesting there was a hidden Transformers role in it all that remains one of the planet's most dangerous secrets. "The movie is more of a mystery," Bay says. "It ties in what we know as history growing up as kids with what really happened."
Transformers 3 is the end of a trilogy. Bay says "As a trilogy, it really ends. It could be rebooted again, but I think it has a really killer ending." It basically sounds like Bay is done with the series, and the ending of the movie is a finale of sorts.
The film also features a set "built to resemble a dilapidated nuclear reactor."
Michael Bay is known for getting pretty much carte blanche to shoot where ever and with whomever he wants, so it's not a surprise that he's going to be shooting real spaceships. But really, what this news does is once again bring up the question, is Transformers 3 going to cleanse our palate from Revenge of the Fallen?