First Look: James McAvoy, Jennifer Lawrence And Rose Byrne In 'X-Men: First Class'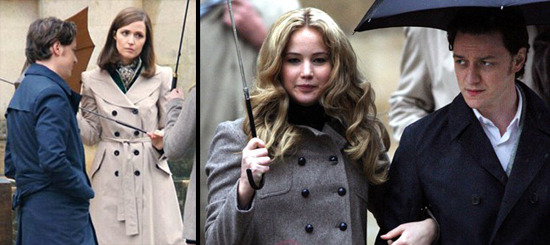 There have been quite a few set pics from X-Men: First Class floating about in the past few days. Most of them, however, haven't been very good; the first images to come out showed James McAvoy and some of the rest of the cast, but they were blurry and details were difficult to distinguish.
These new images still aren't terribly exciting, but they're a lot more clear, so you can get a sense of the film's 60's-set style.
Not a lot we can really tell you here; the film is shooting in Oxford, UK, and a bunch of pics have been snapped of late of James McAvoy walking and sporting a lush head of hair as the young Charles Xavier. The blonde is Jennifer Lawrence, who was so wonderful in Winter's Bone. She's playing Mystique, and after the blue-skinned portrayal in past X-Men films, seeing this very normal Mystique is a bit jarring. One would expect we'll see something more over the top from her eventually?
And then there's one shot with Rose Byrne as Moira McTaggart. The costumes look great – appropriate to the time period without being too flashy — but I'm sure we're all more interested in seeing the more overt, hero-ish effects of the film. [ONTD]