Movie Trailer: 'The Girl Who Kicked The Hornet's Nest'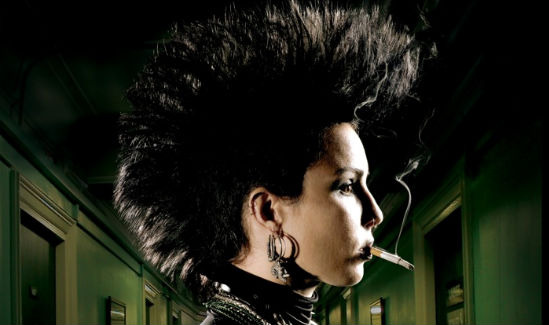 Imagine Christopher Nolan released Batman films this quickly. 2010 will see not one, not two, but all three Swedish film adaptations of Stieg Larsson's Millennium Trilogy hit the big screen as a trailer has just been released for the third and film of the series, The Girl Who Kicked The Hornet's Nest starring Michael Nyqvist and Noomi Rapace. It comes on the same weekend that David Fincher, currently prepping the American remake of the first film of the trilogy The Girl With The Dragon Tattoo, not only has the number one movie at the box office with The Social Network but also features the woman he cast as lead character Lisbeth Salandar, Rooney Mara. The Girl Who Kicked The Hornet's Nest will start rolling out on October 29. Hit the jump to see the trailer and more.
The Millennium Trilogy is certainly one of the biggest stories to hit popular culture in 2010. All three novels, The Girl With the Dragon Tattoo, The Girl Who Played With Fire and The Girl Who Kicked The Hornet's Nest, have been main stays on The New York Times bestsellers list, were the subject of a fascinating Entertainment Weekly cover story, and spawned two of the most hotly contested casting calls in recent Hollywood memory – with the leads in the American remake going to the aforementioned Mara and James Bond himself, Daniel Craig.
Personally, I found the original film to be extremely gripping, right up until the end where it devolved into a whole bunch of predictable tropes of the thriller genre. I have yet to see the second film, or third obviously, and I'm certainly not the only one. In the United States, the original film, which was released in March, made just over $10 million while the sequel, which was released in July, has grossed a little over $7 million. (Both movies made about 10 times their domestic gross internationally, however.) Hornet's Nest will surely do at least as much as its predecessor as fans of the series will surely want to know how it all wraps up. Plus, both of the stars of the original series – Michael Nyqvist and Noomi Rapace – are beginning to gain major cache in Hollywood with Rapace being cast in Sherlock Holmes 2 and Nygvist getting a major part in Mission Impossible 4.
What do you think about this series? Does it excite you, have you read the books, do you care? And what about this trailer? Do the neck spikes and Mohawk do it for you?