Emma Stone Reportedly To Be Offered Mary Jane Watson Role In 'Spider-Man'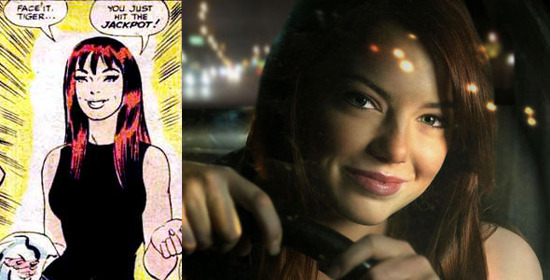 Over the last week, a shortlist has emerged of actresses that caught the collective eye of Sony and Spider-Man director Marc Webb. The prizes: two lead female roles in Spider-Man, the romantic interests Gwen Stacy and Mary Jane Watson. Emma Stone is one name on the list, and she seems like the ideal fit for Mary Jane Watson. And now Sony will reportedly offer her the role.
Deadline says Sony will "imminently" offer Mary Jane Watson to Emma Stone, who has already been in Sony pictures Zombieland and Easy A. The latter film was her first starring role, and she knocked it out of the park, holding her own against far more experienced character actors like Stanley Tucci, Patricia Clarkson and Thomas Haden Church.
That leaves Mia Wasikowska, Dianna Agron, Georgina Haig, and Dominique McElligott as the four women standing in contention for Gwen Stacy. Deadline's report(s) make the Gwen Stacy character sound like the one with less screen time. Wasikowska is said to be only vaguely interested in the role, perhaps because of the fact that it isn't a particularly big part. Dianna Agron would have to deal with her schedule for Glee, but if the Gwen Stacy part isn't too demanding that might not be an issue. Any of the four would do fine with the role, and if Mary Jane Watson is being cast now, we can likely expect to hear a decision about Gwen Stacy very soon.
Then the question of villains crops up. Deadline had said that Venom was being mentioned, with Philip Seymour Hoffman a key interest to play him. That seems odd and wrong on several levels, but it was Sony that had all the excitement for Venom in Spider-Man 3, so there might be reason to take that seriously. (And much love for Hoffman, which should go without saying, but as Venom?)