Ciaran Hinds And Violante Placido Join Ghost Rider: Spirit Of Vengeance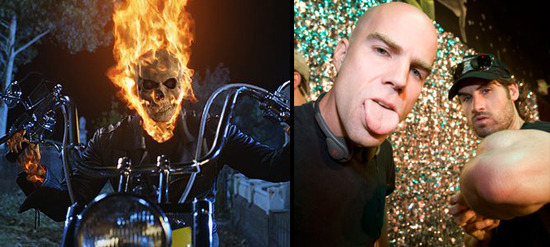 Ciaran Hinds and Italian actress-singer Violante Placido are in talks to join the cast of Ghost Rider: Spirit of Vengeance. Hinds has appeared in Munich, There Will Be Blood, Road to Perdition, Race to Witch Mountain and plays Aberforth Dumbledore in the upcoming Harry Potter and the Deathly Hallows films. Placido is best known to US audiences as playing Clara in The American.  According to Heat Vision, Hinds will play The Devil,who wants to take over "his mortal son's body on the boy's birthday." Placido will play the boy's mother.
Nicolas Cage reprises his role as Johnny Blaze, aka Ghost Rider, who is recruited by a sect to take on the devil while hiding out in remote Eastern Europe while struggling to repress his curse. Mark Neveldine and Brian Taylor, the mad men behind the two Crank films, are directing with a script they penned based on a story by David Goyer. Scott Gimple and Seth Hoffman (Flash Forward) had turned in a draft of a script.  I'm sure we can also expect the movie to be filmed and distributed in 3D.
via: ComingSoon