Greta Gerwig Joins Whit Stillman's Next Film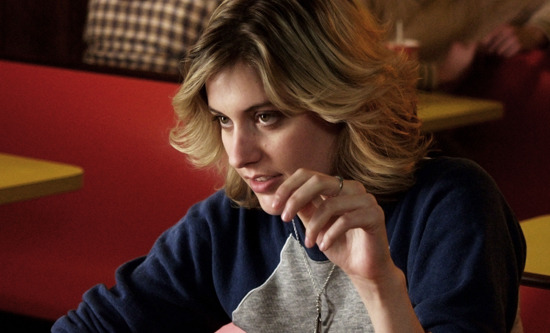 Call this a perfect match: Whit Stillman (Metropolitan, The Last Days of Disco) is finally making another film, called Damsels in Distress, and indie darling Greta Gerwig (Greenberg, House of the Devil) says she's got a role.
We've known about the film for a while, as earlier this year Variety said the film would shoot in late summer in New York (natch) with no stars, as an ultra low-budget project. Well, the late summer dates came and went, but the trade-off is a trade-up to Gerwig. She may not count as a star, but she's also not a nobody.
Gerwig told WWD about her role:
I play a girl named Violet who runs a suicide-prevention center at a liberal arts college. She prevents suicides through the powers of Thirties song-and-dance numbers. So it's a very dark comedy.
She also said it shoots in two weeks, but that was in an interview posted on Sept 15. So the film should be shooting...now. Hey, neat! After a decade of inactivity from Stillman on the feature front, this is great news.
The synopsis released earlier this year goes as follows, though we don't know if it has been altered:
[The picture] centers on a group of college girls who take in a new student and teach her their own misguided ways of helping people. Lily, a new student at Seven Oaks University, winds up filling in with a dynamic and highly individualistic group of girls, addicted to the elegance of the past: Heather, Violet and Rose all volunteer at the campus Suicide Prevention Center, convinced that musical dance, sharp clothes and good hygiene — the Dior perfume "Diorissimo" is their trademark — can all contribute to staving off the inevitable self-destructive impulses that follow hard on the heels of failed college romances. Despite their sophisticated talk and savvy use of perfume, the girls are plagued by Cupid's arrows and must adjust their psyches to the onset of amour.