Anthony Hopkins Joins Rachel Weisz In Fernando Meirelles' '360;' Frances McDormand And Eminem In Talks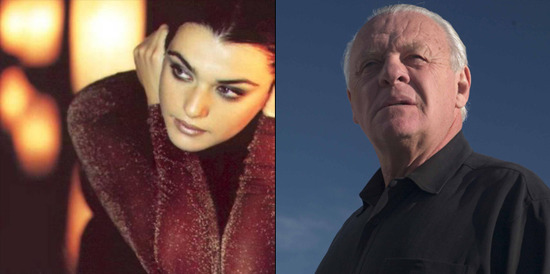 We missed a big piece of casting news about a week ago, which was that Rachel Weisz had signed on for Fernando Meirelles' film 360. The picture is scripted by the ubiquitous-of-late Peter Morgan, based on a play by Arthur Schnitzler. (The gent who wrote Traumnovelle, which was last adapted to film as Eyes Wide Shut.)
Now joining Weisz in the film is Anthony Hopkins. There's also an interesting duo in talks. (Not much of a secret — their names are right there in the headline.)
Production Weekly tweeted the news, saying that Frances McDormand and Eminem were in talks to join Hopkins and Weisz. Frankly I need a moment to get my head around the Eminem aspect. Not even that he's bad; he was often quite good in 8 Mile. But he's rather fallen off the map since then. I saw him perform in 2009, alongside Jay-Z at Activision's DJ Hero party for E3, and he was quite terrible. It's tough to have to stand up to Jay-Z, who is a fantastic performer, but that experience is one I still have to wash away. But enough of that for now; let's wait to see what happens with Eminem. He might not sign on, or he could be a useful addition to the cast.
Recapping what we know about 360, I'll go first to the conceptual description: it "examines sexual morals within and between social classes, using various pairs of characters who have sexual encounters in and outside of their social classes." In a nuts and bolts sense, Schnitzler's play has ten interlocking scenes, in which "each of its ten characters appears in two consecutive scenes (with one from the final scene, The Whore, having appeared in the first)."
Needless to say, I'm very interested to read how Morgan has adapted this, especially with respect to how it might reflect or be different from the previous film adaptation, La Ronde, by Max Ophuls. Careful readers will have realized this means ten primary cast members, and we've currently got only two, with two more possible. Can't wait to hear the rest of the cast, and how they'll be paired up.