Chris Pine To Star In Alex Kurtzman's Directorial Debut 'Welcome To People'?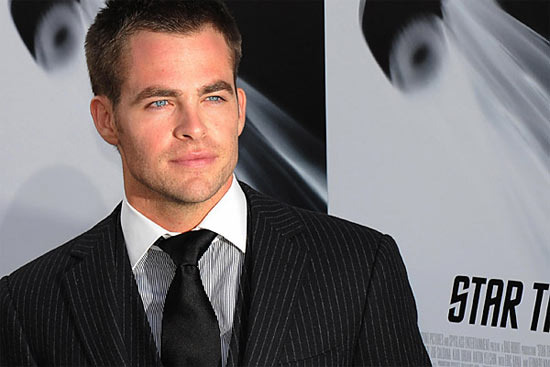 Alex Kurtzman has worked as a writer and producer on numerous projects that Steven Spielberg has helped develop (the Transformers films, Eagle Eye, Cowboys & Aliens), but with Welcome to People, Spielberg will be producing Kurtzman's first directorial effort. The film also marks Kurtzman's first attempt to make a name for himself outside of the action/sci-fi genre fare he's so accustomed to. But if all that's not enough to pique your interest, how about the potential casting of Chris Pine in the lead role?The Hollywood Reporter says Pine is in "preliminary discussions" to star in the film, which follows a man who has to deliver $150,000 in cash to an alcoholic sister that he never knew he had. Kurtzman co-wrote the film with his regular collaborator Roberto Orci and Jody Lambert, the documentarian who made the 2008 film Of All the Things.
It's not hard to infer where the connection came from. Chris Pine starred in Star Trek, which Kurtzman and Orci wrote and executive produced. Since Pine has a relationship with Kurtzman, he's more likely to sign on—assuming his schedule allows it, of course.
Chris Pine is currently filming the McG-directed This Mean War, which he is starring opposite Tom Hardy. He's also set to play Jack Ryan in Moscow, the latest film in the series based on the popular Tom Clancy character. Before then, you can see him alongside Denzel Washington in Tony Scott's train thriller Unstoppable.
Kurtzman and Orci, meanwhile, wrote the screenplay for Cowboys & Aliens, which hits theaters July 29, 2011.
Here's the full plot synopsis for Welcome to People:
Welcome to People tells the story of a struggling twentysomething man who, after flying home to L.A. for the funeral of his estranged record-producer father, discovers that the will stipulates that he must deliver $150,000 in cash to a 30-year-old alcoholic sister he never knew existed, and her troubled 12-year-old son. Determined to keep the money to solve his own problems, he's nonetheless fascinated by his unknown kin and makes contact with the two without revealing who he really is.
The title Welcome to People refers to a child anger-management program in which the nephew is enrolled after blowing up his middle school's pool with a sodium chunk stolen from chemistry class; the grown son is a damaged goods broker — a fitting metaphor for his emotionally crippled relationship with his father; and the illegitimate daughter is an alcoholic who tends bar at The Standard Hotel on Sunset Blvd.