James Franco Options 'The Adderall Diaries' For Which He Plans To Write, Produce, Direct And Possibly Star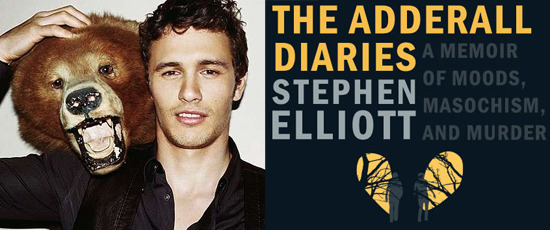 James Franco could turn out his highest-profile directorial effort with an adaptation of Stephen Elliott's memoir The Adderall Diaries: A Memoir of Moods, Masochism and Murder, which he would also write and produce. Franco could star in the film, as well. Variety says the actor has optioned the book, but doesn't detail any timeframe. If the option has just been taken then Franco has to get to work writing; I wouldn't expect to hear much about this for at least six months.
The most likely way that could change is if, upon the film's release, heat for Franco's performance in 127 Hours lights a fire under this one. If that's the case — say an outfit like Focus or Fox Seachlight becomes interested — then we might get more news quickly. (Franco's company, Rabbit Bandini, is behind this option; I can't quickly dig up whether the company is set up with any larger outfit.)
I'll give you this: James Franco is quickly becoming one of the most interesting young actors out there. If half of what I've heard about 127 Hours is true he could be a strong Best Actor contender, but that would only be a formal recognition of what any casual observer can see: Franco is taking changes and flowing through his career with seeming disregard for most rules of the business. And I love watching it.
Amazon offers this rundown of The Adderall Diaries:
In the spring of 2007, a brilliant computer programmer named Hans Reiser stands accused of murdering his estranged wife, Nina. Despite a mountain of circumstantial evidence against him, he proclaims his innocence. The case takes a twist when Nina's former lover, and Hans's former best friend, Sean Sturgeon, confesses to eight unrelated murders that no one has ever heard of.
At the time of Sturgeon's confession, Stephen Elliot is paralyzed by writer's block, in the thrall of Adderall dependency, and despondent over the state of his romantic life. But he is fascinated by Sturgeon, whose path he has often crossed in San Francisco's underground S&M scene. What kind of person, he wonders, confesses to a murder he likely did not commit? One answer is, perhaps, a man like Elliott's own father.