Jack Black Bringing 'The Guinea Pig Diaries' To Television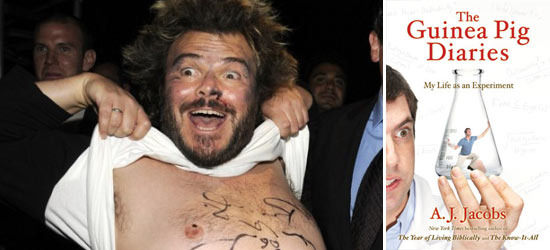 Funnyman Jack Black is continuing his expansion into every available medium. He's already conquered the movie scene–and with starring roles in films by Stephen Chow and Richard Linklater, that doesn't look to be changing anytime soon–and has built a significant following with his band Tenacious D, who have recently written a song for the new Heavy Metal movie. Next up, he's heading to television in his first non-cameo role, not counting his three-episode stint on HBO.
The project is based on A.J. Jacobs' nonfiction book The Guinea Pig Diaries: My Life as an Experiment, and is about "a man fixated on self-improvement who takes on difficult experiments and lifestyles, all of which makes things tough on his family". Learn more after the break.
The Hollywood Reporter says NBC made a pilot order-with-penalty deal with Black, whose production company will help produce the show. Writers for the pilot will be Josh Goldsmith and Cathy Yuspa, the husband-and-wife team responsible for the Fox sitcom 'til Death.
From the brief synopsis, the show sounds nearly identical to My Name is Earl, except with the promise of more... Jack Black. A lengthier description at the author's site provides added context:
On a mission to understand the mysteries of modern life – from love to work to fame – I became a human guinea pig. I immersed myself in a series of radical lifestyle experiments. I changed the way I thought, talked and looked. I followed old wisdom and new science. I saw the world from the eyes of a woman. I followed the wisdom of George Washington. I outsourced my life. I engaged, I'm afraid to say, in public nudity. (Not all at the same time).
These experiments wreaked havoc on my life, and drove both my wife and me to the brink of insanity, but also gave me fascinating insights.
The site also details some of Jacobs' experiments, which include: hiring a team in Bangalore, India to take of his every menial task; openly speaking every passing thought no matter the circumstances; acting as a beautiful woman on an online dating site; and assuming the identity of actor Noah Taylor and crashing the Academy Awards.
So if the show gets picked up, those are some of the hijinks you can expect to see Black getting into.