Mia Wasikowska And Emma Stone Possible Candidates For Lead Roles In 'Spider-Man'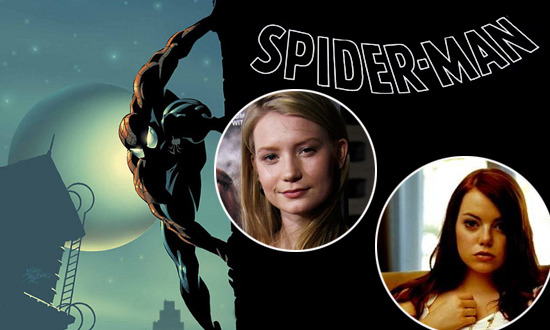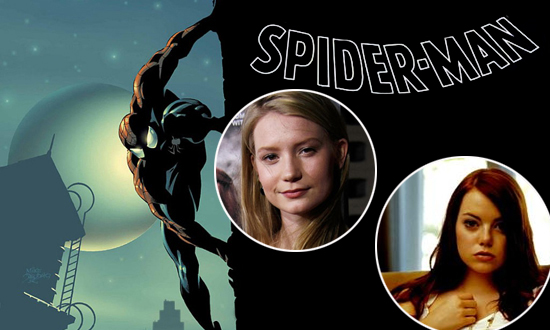 Sony has been remarkably good so far about keeping details of the upcoming Spider-Man reboot totally quiet. We know that Andrew Garfield is set as Peter Parker. (After seeing him in The Social Network, you'll probably really understand why.) But that's just about all we know. Who is the villain? What character will be the female lead and who will play her? Open questions right now.
But the latest report says there will be two female leads, and that Mia Wasikowska (Alice in Wonderland, Jane Eyre) and Emma Stone (Zombieland, Easy A) have been working with Sony, Garfield and director Mark Webb in readings and tests.
EW reports that the two actresses are now in the mix, and supposes that means the roles are classic romantic interests Mary Jane Watson and Gwen Stacy. The immediate conclusion to draw is that Emma Stone would be Mary Jane and Mia Wasikowska Gwen Stacy.
To which I say: yes. Do it. After Easy A, I wouldn't doubt Stone's fitness for the role for even a second. And she'd be great opposite Garfield. Wasikowska is equally appropriate for Gwen Stacy.
Questions: are those really the roles? (How could they not be?) Who else is testing? (A great many actresses, one would guess.) And do Stone and Wasikowska want the gigs? As for who else is testing, previous shortlist reports included Imogen Poots, Ophelia Lovibond, Lily Collins, Teresa Palmer, Emma Roberts and Mary Elizabeth Winstead.
The second and third questions are key. EW says Sony declined to comment and won't reveal who else is testing, nor how the priority shortlist is arranged. The site does say that Wasikowska is said to be ambivalent about the job. We've been led to understand that this won't be a particularly high-paying job, and it would likely require an open multi-picture contract. (Wasikowska may well already have one of those with Disney for another Alice movie.)
Spider-Man should shoot by the end of this year, so expect real decisions to be made soon.