Aardman Animation Making Live-Action/CGI 'Raving Rabbids' TV Show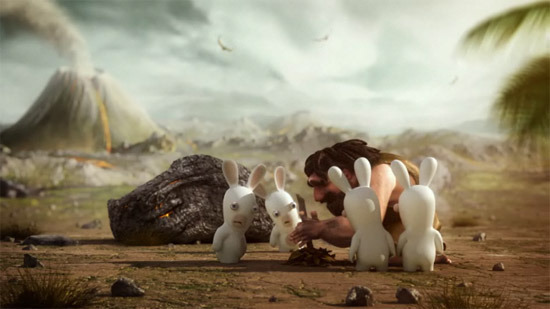 Even if you've never played any of the video games from the Raving Rabbids series, there's a good chance that you've caught some of the wacky antics that can be expected from them during a commercial break or two. The series is a spin-off of the Rayman line of games, and is based around a species of mischievous, maniacal rodents that serve as the antagonists of the franchise. Since their many media appearances, they've grown in popularity so much that they've even managed to eclipse the original series that spawned them.
And as with anything that grows popular, there's no hesitation to capitalize on it: A Raving Rabbids TV show is currently in the works, and the studio producing it is none other than Aardman Animation. Learn more after the break.
Bleeding Cool found out about the show through a job posting for animators, which described it as "a live action / CGI mix", and made clear that it was strictly an in-house production.
No other details about the show are known, but Aardman recently designed a website for the next entry in the Raving Rabbids series, titled "Raving Rabbids Travel in Time", which features an all-CGI animated promo short that's likely an indicator of what we can expect from the show—at least in regards to the Rabbids themselves. While it's sad to see Aardman further distance itself from its clay/stop-motion animation origins, there's no denying that their CGI animation has improved a great deal since Flushed Away.
Unless the episodes are going to run no longer than 15-minutes apiece, the likelihood that the show won't take place from the POV of the Rabbids is high. That approach works for the ads, but with a TV series or a movie, there needs to be a character around whom to base the chaos wrought by the Rabbids. I don't even want to consider the alternative. God, can you imagine a Despicable Me TV show with only the minions? It'd probably be... exactly like the ads for the Raving Rabbids games. ... Hey, wait a minute.
Watch Aardman's recent promo below. (But with the animation being the selling point here, I'd recommend watching it in higher quality over at the official website.)
The previous promos for the games aren't nearly as visually impressive, but they do feature a blend of live-action and CGI, so they're probably worth a mention as well. Check out a collection of them below.