Chloe Moretz Attached To Play 'Emily The Strange'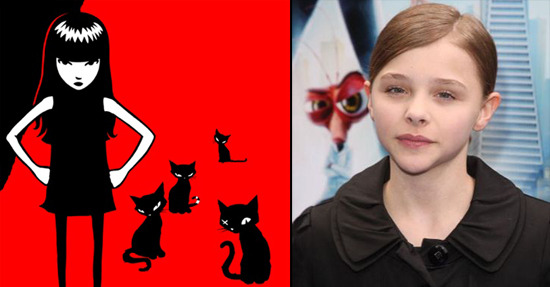 We once wondered if Emily the Strange would be the first movie adapted from a sticker. (Because Mr. Yuk: The Movie! remains stuck in development hell.) Now the answer appears to be 'yes,' as Universal has taken the rights to the character, and young Chloe Moretz (Kick-Ass, Let Me In) is attached to play the lead role.
Deadline repeats info that has been static since 2008: Mike Richardson of Dark Horse Comics will produce the film, and character creator Rob Reger will exec produce with Keith Goldberg. Reger says, "When I first met Chloe I knew I found my Emily." The film is still in the early stages, so we can't offer up any info about what the story might be about, or how it will be designed.Previously:
Emily the Strange is a goth-looking 13-year old girl who is usually accompanied by her four black cats: Sabbath – the troublemaker, Nee-Chee – the schemer, Miles – the creative, and Mystery, the leader of the group. The franchise has a considerable merchandising catalog, including clothing, stationery, stickers, and accessories.
The character was created by Santa Cruz skateboarder Rob Reger in the early 1990's to help promote his company Cosmic Debris Etc. Inc. Before becoming a cult counterculture icon, Emily began on a sticker that was passed out for free at concerts, record stores and skate shops to help promote Cosmic Debris.