Jodie Foster, Kate Winslet, Christoph Waltz And Matt Dillon Cast In Roman Polanski's 'God Of Carnage'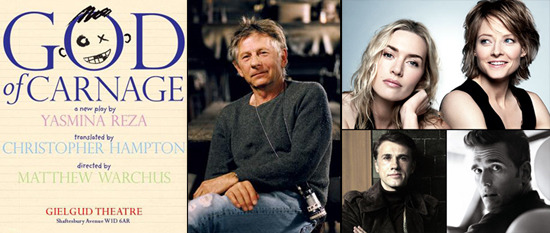 UPDATE: Without any explanation, Deadline's story no longer mentions Matt Dillon, but does say the other male role is not yet cast. More info as we get it. Original article follows.
Over the past year we've known that Roman Polanski was prepping an adaptation of Yasmina Reza's Tony-winning play God of Carnage. And once free from prison and house arrest, Polanski evidently went to work on the movie in earnest, as it now has one hell of a cast. Jodie Foster, Kate Winslet, Christoph Waltz and Matt Dillon are set to star as two New York couples who are led by their kids into a  night of tearing each other (metaphorically) to pieces.
Here's the synopsis:
The play is about two pairs of parents, one of whose child has hurt the other at a public park, who meet to discuss the matter in a civilized manner. However, as the evening goes on, the parents become increasingly childish, resulting in the evening devolving into chaos.
Or, as Deadline says,
The meeting goes disastrously wrong as each pair attacks the other's parenting skills before turning on each other about problems in their own marriages
In a review of Reza's play in the New York Times, Ben Brantley said in 2009,
Never underestimate the pleasure of watching really good actors behaving terribly. Of course you can experience such a spectacle every year around Oscar time. But there is a more sophisticated version of this spectator sport, in which highly skilled stage performers take on roles that allow them to rip the stuffing out of one another, tear up the scenery, stomp on their own vanity and have the time of their lives.
Polanski has certainly got quite a quartet if he wants to push his actors towards ripping the stuffing out of one another. This could be the meatiest part Christoph Waltz has taken since his breakout in Inglorious Basterds. (Or the meatiest he's kept, after dropping out of Cronenberg's The Dangerous Method.) Foster and Winslet we know can do this, and I can't wait to see Polanski pushing Winslet. Matt Dillon almost looks like the odd man out, but I think he's up to the task.
Needless to say, expectations just shot up for God of Carnage. The film shoots in February in Paris.