Guy Pearce, Seymour Cassel And More To Play 'Mis-Fits'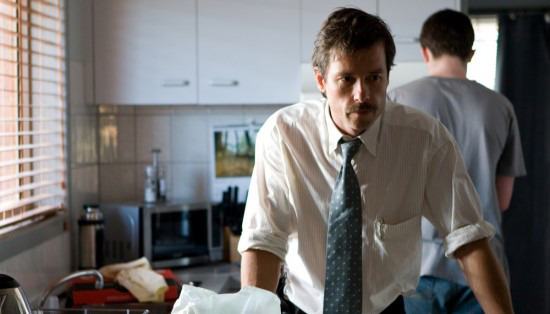 There aren't enough Guy Pearce movies. You can see him right now in a small but powerful part in the Australian crime picture Animal Kingdom, and he'll soon show up in the remake of Don't Be Afraid of the Dark. And now he's been cast, along with four other actors, in a comedy called Mis-Fits.
THR says that Pearce, Seymour Cassel, Catalina Sandino Moreno, Cloris Leachman and Virginie Ledoyen are all in the film, which will be the feature directorial debut of playwright L.D. Napier.
Mis-Fits is based on a script by Napier, and " tells the story of a "necro-detective" who goes in search of people's lost, dead relatives." Producer Doug Claybourne calls it "a wacky comedy in the tone of Harold and Maude," and I invite you to spend a few contemplative moments reconciling that logline with Claybourne's description. Got it? Good.
For the film, Ingrid Michaelson is writing a song with M. Ward. The movie's romantic theme, which would score the romantic entanglement suggested by the producer's invocation of Harold and Maude? Perhaps. Regardless, that's a rather wild cast. Always happy to see Mr. Cassel working alongside other good actors, and Cloris Leachman as well. And Virginie Ledoyen — don't see her in a great many English-language films. I never did catch The Army of Crime, but I liked her well enough in 8 Women and The Beach.