Michelle Rodriguez To Fight Tim League At Fantastic Fest; Closing Night Film Announced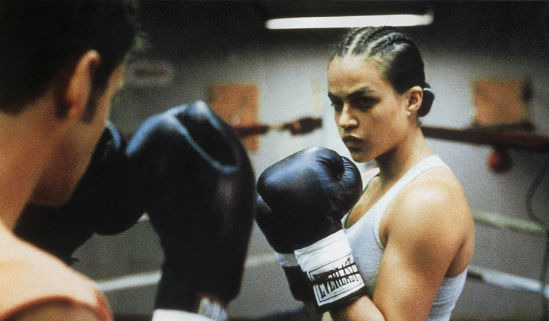 Who wants to see Michelle Rodriguez beat up Tim League? Well, it's probably going to happen at Fantastic Fest in Austin, Texas this week (which Tuesday announced that 13 Assassins would be its closing night film). Rodriguez vs. League is the main event of the annual Fantastic Debates party, where film journalists and filmmakers debate over an issue, and then get into a boxing ring to really settle the score. In previous years, well known journos such as Devin Faraci, formerly of CHUD, and Scott Weinberg of Cinematical duke it out over such topics as "Does Michael Bay Deserve an Oscar or the Death Penalty?" and "Are Vampires Gay?" In last year's main event, League famously fought Uwe Boll over the state of independent films.
The topic League and Rodriguez will be debating this year? "Should Avatar have won the Oscar for Best Picture?"
Hit the jump to check out some videos from previous Fantastic Debates and, of course, to debate amongst yourselves.
As we all know, Rodriguez is not only a notorious bad ass in films like Machete, Avatar and The Fast and the Furious, her star making performance was in a movie called Girlfight where she trained to be a boxer. We hope Tim League, the CEO of the Alamo Drafthouse and co-founder of Fantastic Fest, at least has a couple good James Cameron jokes at his disposal because once they get in the ring, we'll all find out what it's like to see a successful man beat up by a girl.
The event takes place at 11:59 p.m. Sunday September 26 so be sure to check back to see what happened, or just got on YouTube minutes later.
Cinematical did a great round up of last year's Fantastic Debates which you can check out and, just to get a sense of the action, here are a few videos from last year's event.