Steven Spielberg Again Mentioned As Possible Director For 'Robopocalypse'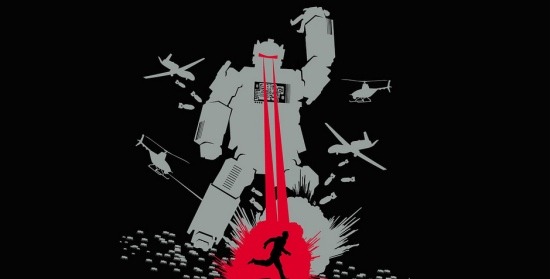 I'm not sure how seriously to take this notion right now, but there's yet another report that Drew Goddard's script based upon the forthcoming Daniel H. Wilson novel Robopocalypse could be a Steven Spielberg film after the director finishes War Horse.
This isn't the first we've heard about Robopocalypse. DreamWorks bought the rights to the novel almost a year ago, in November 2009, and when Goddard (Cloverfield and The Cabin in the Woods) was hired to write, there was speculation that Spielberg would end up shooting that script.
So, in reality, we're only a very vaguely more concrete rumor step forward than was previously the case. Vulture says that Spielberg is thinking about directing it. That means that DreamWorks is all over it, and that agents are following suit thinking that either it could be cast as a Spielberg film or sent out to other directors as 'that script that Spielberg liked enough to almost direct.'
Meanwhile, we still don't have many more story details; the core idea is that it follows ""the fate of the human race following a robot uprising."
Previously, from Peter:Robopocalypse won't be a hugely fantastical tale of the robot uprising, but aims to be more realistic. Wilson has a background in robotics and artificial intelligence which Doubleday Executive Editor and Vice President Jason Kaufman claims "grounds his story with a frightening level of realism and he has created an exhilarating story that we think audiences will really respond to." Wilson has a Ph.D. in robotics from Carnegie Mellon University's Robotics Institute, is a contributing editor to "Popular Mechanics," and hosted a show on the History Channel called "The Works." So yeah, expect something a lot more realistic than Transformers or Terminator Salvation.
You might recognize Wilson's name as his name is all over a bunch of those novelty survival guide books, including the 2005 book "How to Survive a Robot Uprising: Tips on Defending Yourself Against the Coming Rebellion," which was optioned by Paramount Pictures, and "Where's My Jetpack?: A Guide to the Amazing Science Fiction Future That Never Arrived," "How To Build a Robot Army: Tips on Defending Planet Earth Against Aliens, Ninjas, and Zombies," and "The Mad Scientist Hall of Fame: Muwahahaha!"