Tim Burton's Frankenweenie 3D Gets A Voice Cast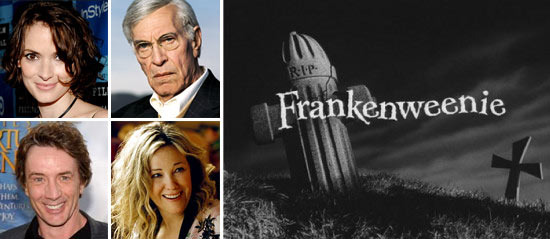 Fitting for a film that finds Tim Burton returning to where his career first began, the Hot Topic-favorite director has a voice cast in place for Frankenweenie 3D that will reunite him with some familiar faces. To recap: the film is a stop-motion Disney animated feature, based on his '80s black-and-white short about a boy named Victor who reanimates his dog after its hit by a car.
So who has Burton lined up for the film? Well, in case you can't put the names to the faces in the pic above: Winona Ryder, Martin Landau, Martin Short and Catherine O'Hara. More details on the casting after the break.
Deadline has the news, and character names to go along with it. Ryder and Landau will play the characters of Elsa and Mr. Rzykruski, respectively, while Short and O'Hara will provide voices for five supporting roles apiece, including Victor's mom and dad.
In the original short, Victor's parents (played by Daniel Stern and Shelley Duvall) had the two largest roles outside of Victor himself, but it seems Burton and screenwriter John August (Big Fish, Charlie and the Chocolate Factory, Corpse Bride) have changed things up for the feature adaptation. Elsa and Mr. Rzykruski are brand new characters to the story.
As mentioned previously, Burton has worked with all of these actors before: Winona Ryder starred alongside Johnny Depp in Edward Scissorhands, and was the ghost-seeing daughter in Beetle Juice; Martin Landau also starred opposite Johnny Depp, earning an Oscar for his portrayal of Bela Lugosi in Ed Wood; Martin Short lost his finger in Mars Attacks!; and Catherine O'Hara played Ryder's mother in Beetle Juice, and was also one of the voices in A Nightmare Before Christmas. So this should be a comfortable cast arrangement for Burton, who has made it very clear in the past that he prefers to stick with the same actors for his films—Depp and his wife Helena Bonham Carter being the two stand-outs. I'd be a little surprised if they didn't end up lending a voice to the film as well.
Frankenweenie 3D is set to be released on March 9, 2012. Until then, you can catch up on the original short below.