'The King's Speech' Takes Top Prize In Toronto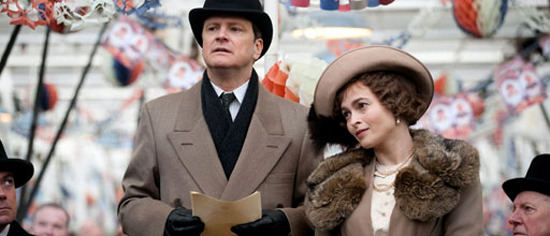 The top prize awarded at the Toronto International Film festival is an interesting one, because unlike many other festivals which use a jury to award the biggest prizes, TIFF's top honor is an audience award. This year, audiences in Toronto gave the People's Choice Award to The King's Speech, starring Colin Firth as King George VI of Britain, "who overcame a nervous stammer to deliver a crucial address on the eve of that country's entrance into World War II."
The King's Speech was received with exceptional enthusiasm at both Telluride and TIFF, and is already being predicted as a very probable Best Picture contender and a vehicle for another Best Actor nomination for Colin Firth. We don't have a trailer yet, but The Weinstein Company will release the film in the US on November 26. In lieu of a trailer, I've embedded a few items below: the TIFF press conference for the film, as well as some audience-shot footage of a post-screening Q&A at the festival. There's also a non-embeddable but entertaining clip from the film at IMDB.
The TIFF award has been a good predictor for the Best Picture race in the past; previous winners at TIFF include Slumdog Millionaire, Precious, American Beauty and Crash. (The award has also gone to some other interesting films: Eastern Promises, Tsotsi and Takeshi Kitano's Zatoichi, for example.)
The King's Speech was directed by Tom Hooper (John Adams, The Damned United) and co-stars Helena Bonham Carter, Michael Gambon, Guy Pearce and Geoffrey Rush.
[NYT]