Casey Affleck And Andrew Dominik Shooting New Crime Picture In January; Dominik's Marilyn Monroe Film Delayed?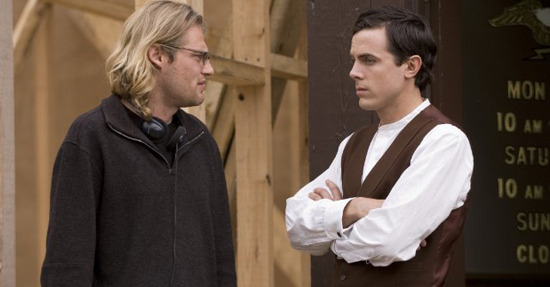 Earlier this week a single line in a New York Times piece got my hopes up, by saying that Casey Affleck would soon work again with director Andrew Dominik. That would be a re-teaming of two of the primaries from The Assassination of Jesse James by the Coward Robert Ford. (Affleck played Ford, Brad Pitt played James; hopefully this is a superfluous recap.) Now, in a different interview, Affleck has seemingly confirmed the plan to re-team.
This raises two questions. One: what's the new movie? And two, what does this mean for Blonde, the Marilyn Monroe biopic Dominik had planned to shoot in January?
We'd originally suspected that Casey Affleck would be cast in Blonde, but during an interview with The Kevin and Josh Movie Show on Washington DC's CBS Radio, Affleck said of the new project with Dominik,
I don't know if I'm allowed to talk about it, but it's a Boston-based crime... It's based on a novel set in Boston, but it's not going to be set in Boston, unfortunately.
That leads to supposition number two: that Affleck might be talking about the new version of Tell No One, which Dominik was hired to rewrite back in August. But while the source novel by Harlan Coben is a crime novel of sorts, it isn't based in Boston. So (probably) scratch that.
Given that there were two Monroe biopics in the works, the other being My Week With Marilyn, to be directed by Simon Curtis, I'm not surprised that a game of chicken broke out. I'm just sorry that Dominik's film, which was to star Naomi Watts as Monroe, is the one that seemingly blinked first.
The other Monroe film has more casting firmly in place, but after Jesse James and Chopper, I thought Dominik was the ideal man to do a new screen take on Monroe's life and fame. Hoping that this is just a delay, but I wouldn't be at all surprised if Blonde simply didn't happen.
So: what the hell is Dominik going to make, and what role will Casey Affleck have? Someone knows...
[via FSR]