Mark Strong Joins 'Tinker, Tailor, Soldier, Spy'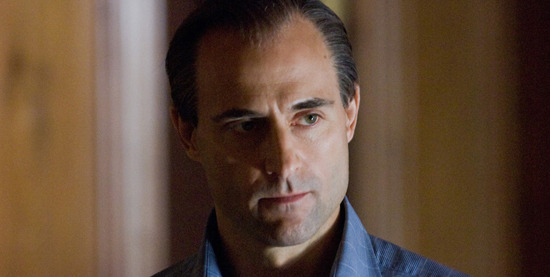 Just about every development on Tomas Alfredson's film Tinker, Tailor, Soldier, Spy seems to be a good one. The cast is a knockout (Gary Oldman, Colin Firth, Tom Hardy, Benedict Cumberbatch, Jared Harris and Ciaran Hinds) and now there's another good name on board, as Mark Strong has signed to appear. We don't know his role, but at one point Ralph Fiennes was said to have a part, and he's fallen away from recent reports. Could Strong be his replacement?
The info comes via the one reliable writer at the Daily Mail, which also reports that Svetlana Khodchenko is also now set for a role as a Russian spy.
Bridget O'Connor and Peter Straughan wrote the script, which adapts John Le Carré's novel about retired MI6 agent George Smiley (Oldman) who is called back to serve when a high-ranking member of MI6 is suspected of being a Soviet mole.
Producer Tim Bevan confirmed to the Daily Mail that the film would be set in the '70s, which puts to rest one question we've had since the film started to come together. I still hope that Le Carré and Morgan (who wrote an early draft) and O'Connor and Straughan have kept the jargon that was used in the novel. Le Carré called MI6 'the circus', black bag ops were 'scalphunters' and American agents were 'the cousins'. That aspect remains uncertain — if you've got the script, consider letting us have a look. I'd expect that will indeed be part of the script, as Le Carré is reportedly adamant that little be changed.
Tinker, Tailor, Solider, Spy has been adapted twice before: by the BBC for television in 1979 with Alec Guinness starring as George Smiley, and then by BBC Radio 4 in 1988. A 1982 BBC mini-series later adapted Smiley's People (again with Guinness), the third book in the trilogy, but the middle chapter has never made it to screen.