Trent Reznor Releases Five Free Tracks From His Score For 'The Social Network'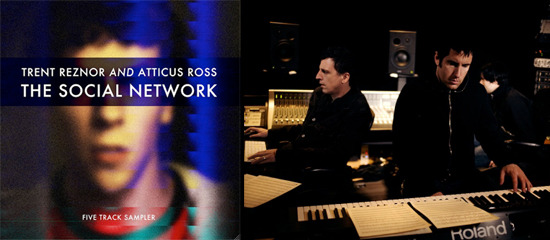 We've waited a very long time for Trent Reznor of Nine Inch Nails to score a major motion picture. (He oversaw the soundtracks and contributed music to films like Natural Born Killers and Lost Highway, but those weren't full scores.)
That Reznor would score David Fincher's The Social Network seems somehow perfectly fitting. A film about the relationships and conflicts between the founders of Facebook, and by extension a film about the new social codes and media that bind so many of us, is possibly the most ideal fit for the musician whose music defined relationships for at least one generational subset.
Now, via his label The Null Corporation and Sony's Madison Gate Records, Reznor will self-release the score that he and Atticus Ross wrote and performed for The Social Network. Today, a free five-track sampler is available online.
Mr. Reznor said via email last night,
A site will be going live tomorrow (9/17) allowing the public to get these same tracks for free and take pre-orders for the entire record, which will be released 9/28.  We're offering a variety of physical formats (including an audio Blu-Ray with 5.1 and high quality stereo) and we've partnered with Amazon to allow the price of the digital release to be $2.99 for the full album (19 tracks) download.
There are five tracks to be heard: 'Pieces Form the Whole,' 'Eventually We Find Our Way,' 'On We March,' The Gentle Hum of Anxiety,' and 'Soft Trees Break the Fall.'
None of the five tracks sound quite like Nine Inch Nails, which is good. But there are flourishes and an overall feel that are distinctly Reznor. 'Pieces Form the Whole' is (I think) the closest to an older NiN track, at least from the perspective of melody. Listening to all of these tracks, I couldn't quite shake echoes from music the Dust Brothers did for Fincher's Fight Club. But I expect that's more due to that score's relationship to Nine Inch Nails than the reverse.
To grab the sampler, keep an eye on Reznor's site; The Social Network pages will go live today: http://nullco.com/TSN