Sacha Baron Cohen To Play Queen Singer Freddie Mercury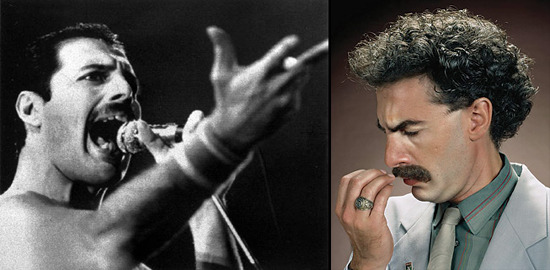 Here's some news that could be eerily on point: Peter Morgan, the guy who wrote The Queen, is now going to write about the band Queen. (That's not the on-point part, but it is a good factor.) More specifically, he's writing an as yet unnamed biopic of Queen singer Freddie Mercury. Even better: to play Mercury, the production has just signed Sacha Baron Cohen. Raise those lighters and sing along with Sacha.
Deadline confirmed the project and casting with financiers GK Films. The general time period covered will be " the band's formative years, leading up to Queen's appearance at Live Aid in 1985." Mercury's death in 1991 won't be addressed, though the film could possibly be finished in time to release not too long after the 20th anniversary of his passing.
GK Films has also cleared the rights to some of Queen's classic tracks, including 'Bohemian Rhapsody', 'We Will Rock You', 'Another One Bites the Dust' and 'You're My Best Friend.' 'Fat Bottom Girls' better be in there, too. One obvious question: will Cohen sing, or will he mime to Mercury's tracks? We don't know. That'll be worked out between the producers, Cohen and whoever gets the job to direct.
We do know that the remaining members of Queen (Brian May, Roger Taylor and John Deacon) are behind the film and formed a company to be part of the production team. That's quite significant.
Expect there to be some real attention paid to Mercury's sexuality, and the fact that he became one of the most famous early victims of AIDS. Mercury's status as a long-standing rock icon helped change the public perception of AIDS, so you can bet that Morgan will address that in some manner in the script.