Dave's Review: The Social Network - The Joys Of Friendship, The Tragedy Of Betrayal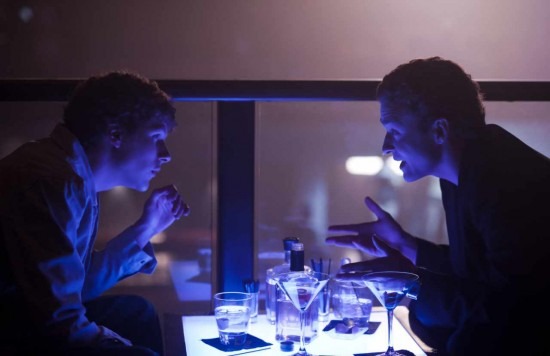 The Social Network is a marvel of meticulous construction. At no point during the film's 2+ hour runtime did I feel as though it was anything less than a masterwork of two creative artists – director David Fincher and screenwriter Aaron Sorkin – at the top of their respective games. There has been a lot of discussion about how the film captures the cultural zeitgeist and how it simultaneously taps in to the excitement, the promise, the greed, and the petty angst of millenials. But more than any of that, The Social Network is a gripping story about what happens when friends decide to succumb to their inner demons, and how those decisions come to haunt them forever.
The film begins in 2003 in Cambridge, MA. After a scathing conversation with his then-girlfriend (Rooney Mara), Harvard student Mark Zuckerberg (Jesse Eisenberg) retreats to his dorm room, chastened, drunk, and angry. With the help of friend Eduardo Saverin (Andrew Garfield), Zuckerberg hacks into Harvard's servers to create Facemash, a website that pulls up profile pictures of two random women and allows people to rank them. When the site goes viral and causes Harvard's network to melt down, Zuckerberg catches the attention of Cameron and Tyler Winklevoss (played by Arnie Hammer and Josh Pence, although only Hammer performs the facial acting of both), two Harvard rowers who are looking to start a Harvard-based social network. The two ask Zuckerberg to work for them and Zuckerberg agrees. But after months of blowing them off, Zuckerberg steals their idea (or does he?) and launches his own social network, "The Facebook." And the rest, as they say....
There's a lot of ugliness and darkness in The Social Network. As these young entrepreneurs duke it out in court, I was struck with the inescapable the fact that a lot of the film is comprised of rich people fighting even richer people, all of them trying to extract the highest possible value from each other.
Sorkin is accustomed to writing flawed but noble heroes, but it's in The Social Network that he encounters one of his few anti-heroes. I've never met Mark Zuckerberg, but his portrayal in the film is vivid and fully realized; this person might not exist in the real world but he easily could. It's also a profoundly unflattering portrayal to say the least. Deep down, Eisenberg's Zuckerberg longs for the approval of his friends and peers. He craves popularity, yet lacks the decency and emotional intellect to gain it. He is a haughty, insecure, vindictive douchebag, who is nonetheless a genius that will go on to become the world's youngest billionaire. But Eisenberg doesn't always spell out what's going through Zuckerberg's head. He challenges you with his enigmatic stare, his disdainful sneer, and his occasionally deadpan delivery. It's a memorable performance, and one that raised my respect for the young actor considerably.
Many of the film's other performances are equally deserving of praise. Justin Timberlake is strangely watchable as Napster-founder Sean Parker, a brilliant entrepreneur and a conniving instigator. I also found the Winklevoss twins to be totally convincing. At no point did it ever occur to me that Hammer's head was being digitally grated onto the other Winklevoss, clearly evidence that Fincher's use of digital trickery continues to be refined and perfected.
The film's biggest asset, though, is Andrew Garfield, playing Eduardo Saverin, Zuckerberg's only friend in college. While Garfield occasionally looks and sounds like a young Hayden Christensen, he quickly proves that he can easily surpass anything that Christensen has ever done, and probably ever will do. The bond between Saverin and Zuckerberg, between the selfless and the selfish, is one that we've seen many times, both on film and in our lives. Zuckerberg knows nothing but the pursuit of greatness and repeatedly falls prey to the irresistible lure of self-aggrandizement. Saverin, on the other hand, has deeper, nobler values, and Garfield sells the character with everything he has, evoking a striking innocence that should suit him well as the new Peter Parker. As Zuckerberg continues to take advantage of Saverin's good graces, we hope for a positive outcome, while knowing that this story probably won't end well for these two. It's a tragic tale of how friendship unravels, a story whose gravity trounces the levity that the film's title and subject matter might imply.
In feel, The Social Network is most similar to Fight Club, only here, elite parties and nerd-populated dorm rooms replace make-shift underground wrestling arenas. Fincher colors much of the film with his characteristic brownish/greenish hues, while swooping, deliberate establishing shots reveal insane amounts of detail in every frame. Working with cinematographer and longtime collaborator Jeff Cronenweth, Fincher adeptly captures the allure of the elite, the out-of-reach, the unknown. His mastery of atmosphere not only allows him to capture a sense of place, but also of mood. We feel Zuckerberg's satisfaction at beating the Winkelvosses and his excitement at being on the cusp of a social networking revolution. Trent Reznor and Atticus Ross's foreboding yet propulsive score tinges the film with a feeling of inevitability.
The Social Network is based off of the novel Accidental Billionaires by Ben Mezrich, the veracity of which has already been disputed from numerous sources (not the least of which is Zuckerberg himself). Like all movies based on real-life occurrences, a certain degree of fabrication is necessary. But for all the film embellishes, what's remarkable is how many of the essential facts of the Facebook lawsuits that Sorkin is able to convey in a compelling fashion. The movie boomerangs back and forth in time and location, offering us glimpses of the various legal proceedings and allowing the main characters to describe what transpired in their own words under the guise of deposition proceedings. It's an intricate web to spin, but in Sorkin's hands, it just works.
Sorkin's indelible style can also be felt throughout. Those of you who missed the rapid-fire patter of Sorkin's earlier days have nothing to worry about as it's back in full form. As usual, Sorkin is able to wring a great deal of humor from the proceedings, recognizing the idiosyncrasies and absurdities, both of the justice system and of the process of launching a tech startup.
When I was growing up, a wise person once told me that all people want is to be loved. If they can't have love, they'll take respect. And if they can't have respect, they'll settle for fear. These are the trade-offs that we watch Mark Zuckerberg make throughout the film. At the end of The Social Network, I wanted to hate Zuckerberg's guts for his staggering success, which came about despite all the emotional damage he had perpetrated against those around him. But I also wanted to just give the guy a hug. That balance between humanity and inhumanity is perhaps the film's greatest triumph.
/Film Rating: 9.5 out of 10
You can follow David Chen on Twitter at twitter.com/davechensky or e-mail him at slashfilmcast(AT)gmail(DOT)com.