Official 'Fast Five' Plot Synopsis And Cast Revealed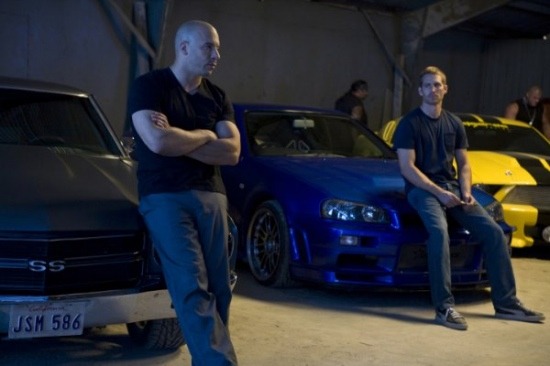 One would think after Universal dropped the definite article from the title of The Fast and The Furious movies, that would be the end. But then Fast and Furious, the fourth film in the series, went on to gross $155 million including an insane $70 million opening weekend and everyone knew the fifth one was coming. And now it's almost here.
Fast Five, starring Paul Walker, Vin Diesel, Jordana Brewster and Dwayne Johnson will hit theaters on June 10, 2011 from director Justin Lin, who also directed the previous two films. And though it has been rumored for a long time, the official plot synopsis finally confirms that not only will the film be set in Brazil but that it will incorporate characters from 2 Fast 2 Furious played by Chris "Ludacris" Bridges and Tyrese Gibson and more. Hit the jump for the full cast list and plot synopsis.
Here's the full plot synopsis for Fast Five, including the cast list thanks to Collider:
Vin Diesel and Paul Walker lead a reunion of returning all-stars from every chapter of the explosive franchise built on speed in Fast Five. In this installment, former cop Brian O'Conner (Paul Walker) partners with ex-con Dom Toretto (Vin Diesel) on the opposite side of the law. Dwayne Johnson joins returning favorites Jordana Brewster, Chris "Ludacris" Bridges, Tyrese Gibson, Sung Kang, Gal Gadot, Matt Schulze, Tego Calderon and Don Omar for this ultimate high-stakes race.
Since Brian and Mia Toretto (Brewster) broke Dom out of custody, they've blown across many borders to elude authorities. Now backed into a corner in Rio de Janeiro, they must pull one last job in order to gain their freedom. As they assemble their elite team of top racers, the unlikely allies know their only shot of getting out for good means confronting the corrupt businessman who wants them dead. But he's not the only one on their tail.
Hard-nosed federal agent Luke Hobbs (Johnson) never misses his target. When he is assigned to track down Dom and Brian, he and his strike team launch an all-out assault to capture them. But as his men tear through Brazil, Hobbs learns he can't separate the good guys from the bad. Now, he must rely on his instincts to corner his prey...before someone else runs them down first.
Cast: Vin Diesel, Paul Walker, Jordana Brewster, Chris "Ludacris" Bridges, Tyrese Gibson, Sung Kang, Gal Gadot, Matt Schulze, Tego Calderon, Don Omar, Elsa Pataky, Joaquim de Almeida and Dwayne Johnson
So we're going to get The Rock hunting down Vin Diesel and Paul Walker? Sounds pretty awesome if you like that kind of thing. And I do. My Fast and Furious tastes are kind of particular though. I love one and three and don't care for two and four. That said, what many people didn't realize when they saw Fast and Furious (that's the fourth one again, if you are lost) is that it took place before Tokyo Drift, which was the third film. You can tell because, once Dom gets busted out of jail, he says he's going far away to hide and then he pops up at the end of Tokyo Drift. Well, this plot synopsis firmly places Fast Five after the fourth film, but it's not definitive on if it takes place before Dom ended up in Tokyo or not. The character Han, played by Sung Kang, is in it but – then again – he was also in Fast and Furious as well as Tokyo Drift.
This doesn't matter, per se, I just like to campaign for how entertaining The Fast and Furious: Tokyo Drift was whenever there's an opportunity and I think it would be kind of cool if Fast Five also takes place before it. Wouldn't it be oddly appropriate if Tokyo Drift – so far removed from the other films in the series – ends up being a really out-of-place sequel? Maybe we could rename it The Fast and The Future. A fan can dream. Then again, if Fast Five really does take place after all the other films, and is incorporating "all stars from every chapter," maybe we can get Lucas Black to cameo.