This Week In DVD & Blu-Ray: Prince Of Persia, Glee (Season 1), It's Always Sunny In Philadelphia (Season 5), And More
We may receive a commission on purchases made from links.
This Week in DVD & Blu-ray is a column that compiles all the latest info regarding new DVD and Blu-ray releases, sales, and exclusive deals from stores including Target, Best Buy and Fry's.

GLEE (SEASON 1)
A year—that's all it took for my opinion on Glee to change from "yay" to "bleh". Last time I wrote about the series, Fox had preemptively released a Vol. 1 DVD release/cash grab for the show, and at the time, my enthusiasm for Glee was at its peak. Then the show's sugar high wore off, and left me with a repeat of tiring romances and routine sad-funny character subplots. The first half of the season—"The Road to Sectionals", as it's referred to on the DVD—had an upbeat yet insidious charm to it, and its cynical undertones (turned into deliciously hate-filled overtones by Jane Lynch) kept the otherwise cheerfully formulaic material feeling fresh. And after bringing many of the subplots to a satisfying close, it seemed like the show writers were planning to change up the story and character relationships just in the nick of time. Instead, they sought out frustrating ways to negate any progress that the story had made in order to unenthusiastically recycle subplots that had since grown bland. And perhaps this is just a result of my waning interest, but by the end of the season, the series' much-needed edge had been lost as well. My (shameful) suggestion: stick to the Vol. 1 release, and wait out the rest of the season until you stop caring.
Available on Blu-ray? Yes.
Notable Extras: DVD & Blu-ray – Extended episodes, a sing-along karaoke, behind-the-scenes of "The Power of Madonna" episode, Glee Makeovers, never-before-seen "Sue's Corners" and a dance tutorial titled "Staying in Step with Glee."
EXCLUSIVE DEAL:
What? Includes Q&A with Glee creators and cast at PaleyFest 2010.
Where? Target.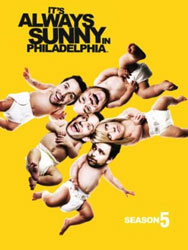 IT'S ALWAYS SUNNY IN PHILADELPHIA (SEASON 5)
The appealing presence of It's Always Sunny's core trio—Charlie, Dennis and Mac—has already ensured that I will watch the show to the very end, and the additional hilarity brought on by Dee and Frank will keep me tuning in to the episodes as they air. But if Season 5 is indicative of the quality we can expect from future seasons, I don't expect I will be purchasing any more of the DVD sets. The scruffy, semi-improvisational style of the show remains as enjoyable as ever, but the episodes as a whole aren't nearly as engaging or memorable as they used to be, often taking the easy way out when paying off conflicts. If there are any moments this season as magical and well-earned as Charlie shouting "Wild card, bitches!" and jumping out the back of a van, I certainly can't remember them.
Available on Blu-ray? Yes.
Notable Extras: DVD – Season Five Blooper Reel, Kitten Mittens Endless Loop, "Phindin' Love in Philly" featurette, Extended/Uncensored Scenes and Alternate Takes, and a Season Five Dream Sequence. Blu-ray – Includes everything on the DVD, as well as The Gang's Dating Profile, and Schwep Dream Sequence.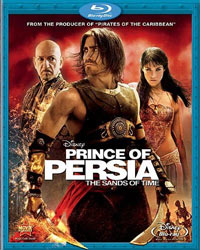 PRINCE OF PERSIA: THE SANDS OF TIME
(Blu-ray available as single-disc and 3-Disc Blu-ray + DVD + Digital Copy)
Prince of Persia: The Sands of Time is a joyless, commercialistic affair, utterly devoid of fun, creativity or charisma. You can't even call the film a failure, because it isn't interesting or ambitious enough to fail at anything. The studio might as well have just titled it Sword and Sorcery Adventure: The Swashbuckler of Time, and called it a day. The best thing I can say about the film: it's slightly more competent than Clash of the Titans.
Available on Blu-ray? Yes.
Notable Extras: DVD – Unseen World: Making Prince of Persia featurette. Single-disc Blu-ray – Includes everything on the DVD, as well as a deleted scene ("The Banquet: Garsiv Presents Heads"). 3-disc Blu-ray – Includes everything on the single-disc blu-ray, as well as a CineExplore: The Sands of Time feature that allows you to uncover over 40 spellbinding segments – including "Walking Up Walls," "Filming in Morocco", and "Ostrich Jockey Tryouts".
*Does not include 3-Disc Edition, which costs $26.99 at Target, Fry's and Amazon, and $27.99 at Best Buy.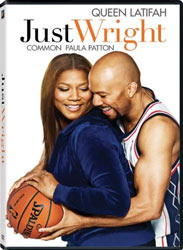 JUST WRIGHT
I saw this movie on a plane, and everyone was walking out. Haha, that's just a little joke for you. Nobody walked out. I actually just sat there in frustration, the unbearable banality of the film slowly draining me of my life force.
Available on Blu-ray? Yes.
Notable Extras: DVD – 2 featurettes ("The One You Can't Live Without", "Common on the Fast Break"), and a gag reel. Blu-ray – Includes everything on the DVD, as well as a When Amazing Happens featurette, and a digital copy of the film.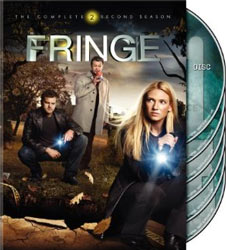 FRINGE (SEASON 2)
I've heard some not-so-encouraging things about Fringe's sophomore outing, but the first season was a fun, well-crafted slice of fantastical-event-of-the-week pseudo-science and mystery solving, and I'm more than up for another round. Is the second season a worthy follow-up, or a disappointment? Share your thoughts in the comments.
Available on Blu-ray? Yes.
Notable Extras: DVD & Blu-ray – Commentary on 4 episodes, featurettes ("The Mythology of Fringe", "Fringe: Analyzing the Scene Sidebars on 6 Key Episodes", "In the Lab with John Noble and Prop Master Rob Smith"), unaired scenes, a gag reel, and The Unearthed Episode starring Kirk Acevedo as Charlie.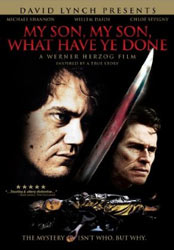 MY SON, MY SON, WHAT HAVE YE DONE
Critics were deeply mixed—conflicted, even—on the unsurprisingly weird thriller that resulted from the pairing of Werner Herzog in the director's chair and David Lynch as a producer. While the trailer tries to sell the film as a fairly typical murder mystery, I doubt you need me to tell you that it's anything but. Even the negative reviews make me want to see the film: "It's like Psycho remade by Ed Wood"; "More like a bad dream than a good film"; and my personal favorite, "...a descent into madness with God in a boombox [and] worshipped oatmeal boxes."
Available on Blu-ray? No.
Notable Extras: A commentary track with Werner Herzog, Herb Golder and Eric Bassett, Interviews with Werner Herzog and Herb Golder, Behind-the-scenes footage, and a short film entitled Plastic Bag narrated by Werner Herzog.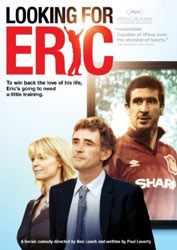 LOOKING FOR ERIC
Director Ken Loach (The Wind That Shakes the Barley) takes a turn for the comedic and fantastical in Looking for Eric, a British film that finds the life of a football fanatic descending into crisis—that is, until he receives some counseling from hallucinations of his hero, the famed footballer Eric Cantona. It's gotten widely positive reviews from critics. Here's the trailer.
Available on Blu-ray? No.
Notable Extras: Deleted scenes.
Other noteworthy DVD (and Blu-ray) releases this week...
Letters to Juliet [DVD / Blu-ray] – Paper Man [DVD / Blu-ray] – Boogie Woogie [DVD / Blu-ray] – The Big Bang Theory (Season 3) [DVD / Blu-ray] – Tim & Eric Awesome Show Great Job! (Season 4) – The League (Season 1) – The Good Wife (Season 1) – Casino Jack and the United States of Money
Noteworthy Blu-ray-specific releases this week...
Seven – Breathless (Criterion Collection) – Invasion of the Body Snatchers – Jacob's Ladder – The Twilight Zone (Season 1) – Delicatessen – Unleashed

NOTES: Some deals may vary by store. Some deals may be in-store only. All deals are for DVDs unless otherwise noted.

Exclusive: The Big Bang Theory (Season 3) comes with 2009 Comic-Con panel Q&A.

Exclusive: The Big Bang Theory (Season 3) comes with exclusive Bazinga T-shirt.
$19.99 – It's Always Sunny in Philadelphia (Season 1 – 4), 30 Rock (Season 2 – 3), How I Met Your Mother (Season 1 – 4), Smallville (Season 1 – 8), Castle (Season 1), Desperate Housewives (Season 3 – 5)

$11 – Blu-ray sale: Hancock, Ghostbusters, Urban Legend, Starship Troopers, Seven Pounds, Secret Window, Underworld, Superbad
$14.99 – Arrested Development (Seasons 1 – 3)
$17.99 – It's Always Sunny in Philadelphia (Seasons 1 – 4)