Teaser Trailer: 'There Be Dragons,' From Roland Joffe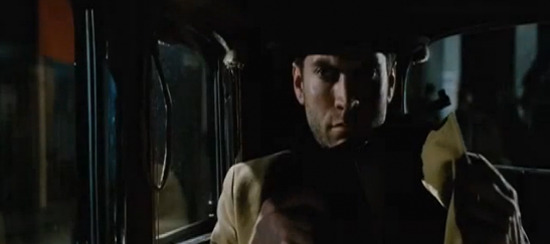 Fair warning: this teaser trailer for Roland Joffe's Spanish Civil War tale There Be Dragons has actually been online since the summer, but we'd completely missed its existence until the recent launch of a new website to promote the film. Joffe's film sounds superficially like it falls right into the middle of a classic conceit: we see two brothers, one of whome becomes a priest, the other a fascist spy.
But the movie is also about St. Josemaría Escrivá, founder of the Catholic organization Opus Dei, aka 'work of God,' which " teaches that everyone is called to holiness and that ordinary life is a path to sanctity." And in case that's a turn-off (it shouldn't be!) the trailer looks purdy.
The film stars Charlie Cox, Wes Bentley, Olga Kurylenko, Derek Jacobi, Dougray Scott, Golshifteh Farahani, and Rodrigo Santoro, and the trailer is a little over the top. But I like the look of the footage, and am hoping this is a classic example of a poorly cut teaser.
Here's the synopsis:
There Be Dragons is an epic action-adventure-romance set during the turmoil of the Spanish Civil War. The film is written and directed by Roland Joffe, acclaimed director of The Mission, and features a stellar cast of young actors –Carlie Cox (Stardust), Wes Bentley (American Beauty), Rodrigo Santoro (300), and Olga Kurylenko (Quantum of Solace). The story traces the lives of two young men, Josemaria Escriva (Cox) and Manolo Torres, childhood friends who are separated by the political upheaval of pre-war Spain to find themselves on opposite sides as war erupts. Choosing peace, Josemaria becomes a priest and struggles to spread reconciliation by founding the movement "Opus Dei" (work of God.). Manolo chooses war and becomes a spy for the fascists. Manolo commits heinous acts that will torment him until the end of his life. Only on Manolo's deathbed will Josemaria's message of forgiveness finally have a profound impact on him and on his estranged son, who comes to learn the truth of his father's dark past.
[via ComingSoon]