Trailer: 'Eastbound & Down' Season Two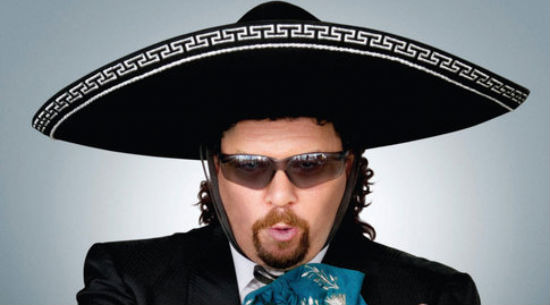 In less than two weeks, you're effing out. Eastbound & Down, the hilarious HBO comedy series starring Danny McBride as cocky former professional baseball Kenny Powers returns on September 26 at 10:30 p.m. to the delight of fans who have been waiting 18 months since the end of season one.
The second season sees a totally revamped cast, including Michael Pena (Crash) and Ana de la Reguera (Nacho Libre), and features Powers hiding out in Mexico where he discovers a local baseball team named The Charros. He then attempts to stage the greatest comeback in history. Want to know more without being too spoiled? Well, a brand new trailer just came out and you can check it out after the jump.
Let's watch to the trailer and then we can discuss.
In this trailer you get a glimpse of everything. Baseball, cockfighting, cornrows, gun shots, mopeds and all the new characters including Pena, de la Reguera, and Efren Ramirez from Napoleon Dynamite. What you don't see are a lot of characters that we've come to know and love from the first season such as Stevie Janowski (Stevie Little), April Buchanon (Katy Mixon) and Terrence Cutler (Andrew Daly). As we all know, Powers ran away from his hometown and those friends at the end of season one and while these character appear briefly early in the season, for the most part, they're gone. The one exception is Stevie, the best friend a guy could have, who returns in an extended role.
Besides its raunchy comedy, mature emotional sensibility and incredible characters, the best thing about Eastbound & Down is also the worst:  it only airs for a short while. The first season was just six episodes long and this season isn't going to be much longer. Basically, it's an extended movie. The positive side of this is it keeps the show totally internal. McBride and his co-creator Jody Hill have complete control of the production and can do whatever they want to do. No network interference here. The downside is they keep you wanting more. Well, that's better than the show jumping the shark or ever being unfunny. Time wise, think of it like an American version of The Office or Spaced.
What are you most looking forward to when Kenny Powers finally reappears South of the Border on September 26?