Oren Moverman's 'Rampart' Adds Steve Buscemi, Sigourney Weaver And Robin Wright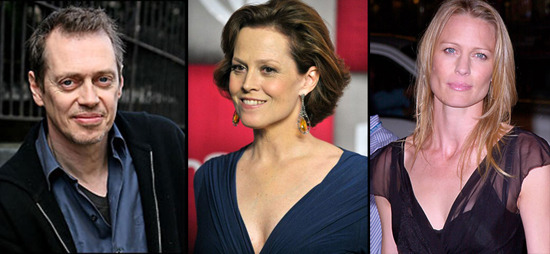 Oren Moverman's Rampart is one of the films I'm most excited about that hasn't been shot yet. Why? Because Moverman wrote and directed a fantastic picture in The Messenger, and then you team him up with James Ellroy and Ellroy's long-standing interest in the Los Angeles Police Department. Mix in Moverman's leads from The Messenger, Woody Harrelson and Ben Foster, and then the rest of the cast, and this might be a winner.
Who's the rest of the cast? Just like the headline says: new names include Steve Buscemi, Sigourney Weaver and Robin Wright.
The Steve Buscemi news isn't terribly surprising, as Moverman is also working with Buscemi to adapt the William S. Burroughs novel Queer, which Buscemi remains, I pray, slated to direct.
But there all sorts of other news names: in addition to Weaver and Wright, there are Anne Heche, Cynthia Nixon. They'd all join Ice Cube, who was cast early along with Harrelson and Foster. This new info is all by way of Variety, which also announces that the film is now fully financed.
What have we got for a plot? Not much: "Set against the backdrop of the scandal within the L.A.P.D. Rampart Division in the late 1990s, film is the fictional account of a veteran police officer (Harrelson) caught up in the scandal, and his search for redemption."
To refresh, Ellroy has spoken about the Rampart Division before, as in an interview with the National Review Online, from 2005:
Rampart is another of these misperceived criminal conspiracies. It's really the story of a handful of rogue, criminal cops who ratted out a wider number of untainted cops to save their own skins. And the entire event blew out of proportion into a media event that most people took to represent large-scale endemic corruption in the LAPD. In reality it wasn't that. Cops are afraid to do their jobs now.
This is the point where I can't be 100% certain of the lineage of the script — my understanding is that Rampart was a James Ellroy story that Moverman turned into a script, while Variety says "...scripted by Moverman and James Ellroy." Needless to say, we'd love to read this one, so if you've got the script, consider sending it along.
Rampart will hopefully shoot beginning at the end of October.