Stephen Lang In Talks For Major Role In Steven Spielberg-Produced Show 'Terra Nova'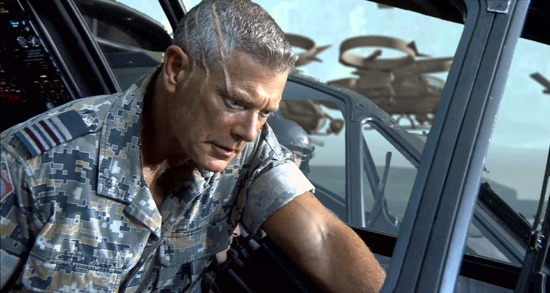 The Steven Spielberg-produced show Terra Nova is going through a few changes. It looks to be adding a notable actor, Stephen Lang, at the same time as it loses a key behind the scenes player in executive producer David Fury.
Deadline has the lowdown on both the coming and going, saying first that Stephen Lang is in talks to play the other male lead role opposite Jason O'Mara, who has been cast for months. Lang would be Frank Taylor, "the charismatic and ruthless leader of the Terra Nova settlement" who pegs former cop and new Terra Nova resident Jim Shannon (O'Mara) as the latest recruit for his security detail.
(To refresh and slightly expand upon previous known details, Terra Nova kicks off in 2149, and sees "the Shannons, an ordinary family from 2149 when the planet is dying who are transported back 85 million years to prehistoric Earth where they join Terra Nova, a colony of humans with a second chance to build a civilization.")
So that's the good news. The bad (or potentially bad) is that exec producer David Fury has split the show, citing 'creative differences,' which could mean just about anything. Deadline reports a source saying that Fury was liked, but that things "just didn't work out." He won't be directly replaced, and showrunner Brannon Braga will carry on as sole writing exec producer.
Back to Stephen Lang for a moment. The only downsides I can see here are: this would keep him away from features for a while, which is a drag. It also might be a role that hews too closely to his persona in Avatar, but I won't really start second-guessing that until we actually see some footage. And he probably won't get to pilot a mech that comes complete with a giant mech-sized knife. Otherwise, Lang's involvement is all good news for the show.