Sam Riley Will Play Christopher Marlowe In 'A Dead Man In Deptford'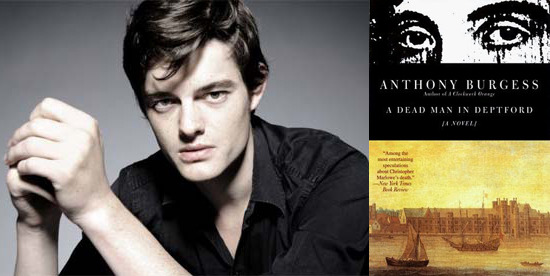 Since he emerged as a possible new leading man in Anton Corbijn's 2007 Ian Curtis biopic Control, Sam Riley has taken his time fulfilling that early promise. He's finally about to hit screens with a couple of new roles in Brighton Rock and 13, and he's now shooting the decades-in-development adaptation of Jack Kerouac's novel On the Road.
As a follow-up to those three films, Riley now has what could be his most intriguing post-Control project. He's set up to appear as playwright and Shakespeare contemporary Christopher Marlowe in A Dead Man in Deptford, which will toy with the revisionist notion that Marlowe was also a spy and victim of political assassination.
Variety says that the film will be based on the Anthony Burgess novel of the same name, which is essentially a fictionalization of a Marlowe biography called The Reckoning. The ideas behind it all are certainly entertaining: that bio alleges that "Marlowe was a secret agent paid by spymaster Francis Walsingham to infiltrate the insurgent Catholic underground."
There's a meaty cast supporting Riley in this one: Ray Winstone, James Purefoy, Ed Speleers and Adam Sinclair. Nick Copus is directing from a script by Michael Elias. Cameras are scheduled to roll in the spring.
The Publishers Weekly recap of the Anthony Burgess novel upon which the film will be based goes, in part, like so:
The story of the short life of brilliant young playwright Christopher Marlowe is ostensibly told by an actor of the time; so perfectly is the period voice caught that it is hard to believe the novelist was not transcribing contemporary documents. Marlowe is seen as a student at Cambridge, soon caught up in the life of a secret agent, shuttling between England and France as the religious struggles of the time reach their apex in the slaying of Mary Queen of Scots. Himself a skeptic, and an active homosexual (frolicking with the young heir of the powerful Earl of Walsingham), Marlowe manages for several risky years to keep his head above the sectarian waters, working when he can at his plays, ever after "the mighty line." Then some of his fellow conspirators, suspicious of him, fabricate a brawl on a spring evening in a tavern and he is slain, still in his 20s.