Saoirse Ronan And James Gandolfini In 'Teenage Hitgirls' Movie 'Violet & Daisy'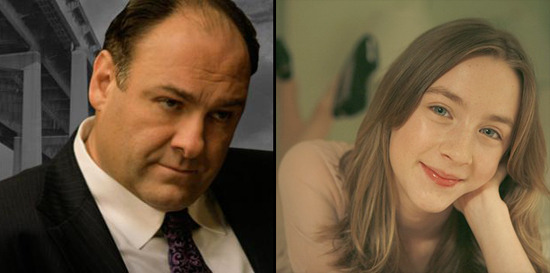 If you read that Saoirse Ronan is going to star in a film about a teenage killer, you might immediately flash back to news about Hanna, the film directed by Joe Wright in which Ronan plays a 14-year old trained by her father to be a killing machine. That film is dated for 2011, and we haven't seen a trailer or much more than a photo.
That, however, is not the film this article is about. But if you took Hanna and squished it together with The Professional, you might end up with something that sounds a lot like Violet & Daisy, the film written and directed by Precious screenwriter Geoffrey Fletcher.
Variety says the film "centers on a pair of teenage assassins who are lured into what is supposed to be just another quick and easy job, only to find complications as the man they're supposed to kill is not what they expected." Alexis Bledel is rumored as Violet (possibly stepping in for Carey Mulligan, who was once linked), leaving Ronan to play Daisy; Danny Trejo is reportedly set for a part, too.
The trade also quotes Fletcher saying "I wanted to make a film that was full of left turns." I'm always leery when a screenwriter proclaims that one of their primary intentions is to mess with the audience by throwing twists and turns into the script. But this is a movie about teenage assassins, after all — genre-iffic and possibly not the most ambitious thing in the world. So if thrilling and surprising an audience is really the primary motivation, that could work. (The script has been pegged in the past as a sort of Thelma & Louise + Superbad + Pulp Fiction, so draw whatever you want from that.)
Fletcher's only other produced screenplay is Precious, but he hit the big time there, taking home an Oscar for Best Adapted Screenplay. (An unjustified win, I think, given that he was up against In the Loop, Up in the Air and District 9. But that's the Academy voting process for you.)
Violet & Daisy is scheduled to begin shooting in New York on September 27.