Sandra Bullock Is WB's Latest Rumored Lead Choice For Alfonso Cuarón's 'Gravity'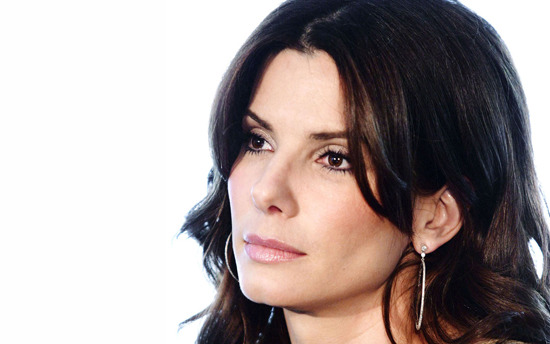 With the choice of lead role for Alfonso Cuarón's 'Castaway in space' film Gravity hinging to a great degree on a bankability index, it's something of a surprise that Sandra Bullock's name didn't come up as a serious first-pick choice until now. With Warner Bros. reportedly nervous about the idea of an $80m sci-fi film in which one actress is the only person on screen for much of the time, turning to Bullock seems like a no-brainer.
The state of things is this: Alfonso Cuarón reportedly wants Natalie Portman, has made an offer to her, and would be willing to cut the budget of the film to make it with Portman and (budget cut notwithstanding) do it on his own terms. Portman's work in Black Swan was a real selling point and set Cuarón's mind firmly on Portman. Her decision on the film is expected any day now.
But CinemaBlend says that WB is much more keen on Sandra Bullock, recently called the 'most powerful actress in Hollywood,' and one that has been very picky about roles in the wake of her Oscar win. She's only set up the Stephen Daldry adaptation of Extremely Loud and Incredibly Close so far.
Question is: would the audience that Bullock draws to films like The Blind Side show up to Gravity? You'd have to think that the same people that loved seeing her be tough but compassionate in The Blind Side would go for her space-bound struggle to return to Earth in a big way. But something that looks like a genre project could still be a question mark. WB is probably right to think that Bullock is a better sell regardless than Portman, but perhaps Inception stands as ample proof that if Cuarón and his cast can knock this out of the park and WB can apply appropriate marketing muscle, it won't matter in the end.
Gravity is scheduled to shoot in January, after having been pushed back from a fall shoot when Cuarón had trouble casting the lead. (After Angelina Jolie passed twice, for example.) Robert Downey, Jr. remains locked for the smallish supporting male role, and his schedule is more than a casual factor affecting the calendar for the film.
Gravity was written by Cuarón's 28-year-old son, Jonás (The Shock Doctrine). The $80 million film is a contemporary survival thriller that follows a woman as she attempts to make her way back to earth after a satellite crash sets off a chain reaction of further crashes. Because it's set in space, most shots require every element to float in zero-gravity. Downey Jr will start production on Gravity in January, leave to shoot Sherlock Holmes 2, and then return to finish with Cuarón. Sherlock 2 is scheduled to hit theaters for Christmas 2011, so we can probably expect to see Cuarón's film in 2012.