Hear The First Song From Julie Taymor's Spider-Man Broadway Musical; New Info And Costumes Revealed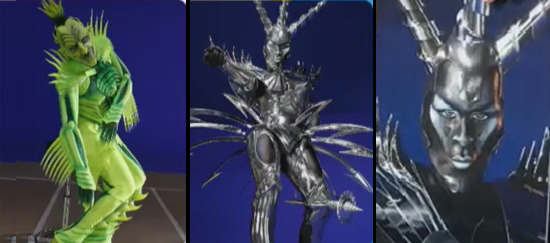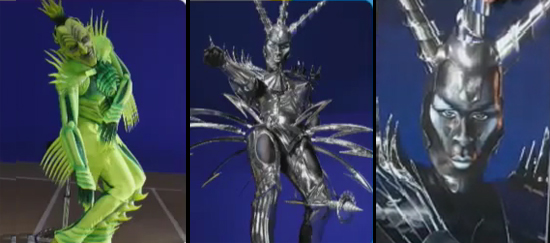 OK, it's not film news, but this is definitely entertainment. Julie Taymor and her producers have been working for over a year to mount a Spider-Man musical on Broadway. Subtitled Turn Off the Dark, the show features music by Bono and The Edge of U2, and stars Reeve Carney (Peter Parker), Jennifer Damiano (Mary Jane Watson) and Patrick Page (Norman Osborn/Green Goblin).
Reeve Carney and his band showed up on Good Morning America today to talk up the show and perform the first song from the playbook. And Julie Taymor showed off a couple costume designs. They're...interesting, to say the least. Taymor also promises that the show will feature Carnage and The Sinister Six. In all-singing, all-dancing versions, of course.
Those are the costume designs, above. Take a minute to let them sink in. With those spikes, it might take two minutes.
That's one design for the Green Goblin, on the left. The mask was designed by Julie Taymor and the costume by Eiko Ishioka, the acclaimed designer who did costumes for The Fall and won an Oscar for work on Bram Stoker's Dracula. On the right is the Swiss Miss, one of "many super-villains" in the film. She's "made of all Swiss Army knives, and cuts New York to pieces," says Taymor, who also promises 'cyber worlds', 'flying over the audience' and 'incredible dance.' (All this info comes from an interview clip that is embedded below.)
In an interview with MTV, Taymor says,
We do have the origin story...In writing with Glen Berger, the playwright, we've tried to craft something that's a little different than what you're used to...Our Doctor Osborn is more of a conglomerate of Doc Ock [and] of Osborn — he's not a businessman...He's a real scientist, who's a real southerner — he believes he's going to help combat the world as it is, environmental disasters...He believes that he has to prepare people, so he's creating through DNA transfers and this and that, the ability for humans to protect themselves when the tides rise and global warming. It's very current. It's very very now, even though we do blend periods.
The Green Goblin shows up in the second act, and if the design above didn't tip you off, Taymor says "it's a very different Goblin." Then The Sinister Six show up, one of whom is Swiss Miss. Also in the mix are Kraven, Carnage and the Lizard.
There's also a twist in there, which is to be revealed. But it has to do with the classic power/responsibility balance that always plays a part in Spidey stories. "How do you save the world and have a normal life?" is the question Taymor applies to Peter Parker, and suggests that it also applies to Bono, which is what led to his recruitment.
Of the music, Bono says "[The sound] swerves all over the road...you've got the big rock and roll tunes, melodrama, big melodies, there's orchestral stuff, too." And the first performance clip is embedded below. It sounds like an emo boy band covering U2 to me, maybe with some Radiohead thrown in, but not being a fan of modern U2 I'm just going to back off further criticism for now.