Movie Trailer #2: Saw 3D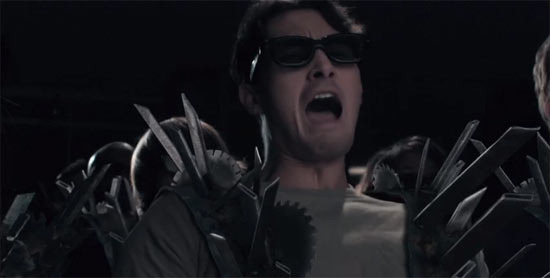 A teaser trailer showed brief snippets of some of the traps that have been given the 3D treatment in this seventh and final entry into the Saw series, and now Lionsgate has provided a better look. Check out the full trailer for Saw 3D after the break.
Yahoo! Movies has the trailer, which you can find below.
I stopped watching the Saw films once they decided to keep them going after the third (supposedly final) entry, but this trailer still managed to pique my interest for about 30 seconds. Even if the formula hasn't changed much, the introduction of civilian onlookers in broad daylight brings a slight edge to otherwise tired proceedings. After that though, the trailer doesn't offer anything else that suggests the series isn't up to its same old tricks. The traps are bigger and more elaborate, maybe, but that's about it.
The marketing department has really been pushing the 3D angle of the film, with a teaser trailer throwing more text at the screen than footage, and posters that focus exclusively on the addition of 3D to the series. And now, it's become clear why Lionsgate has taken this route. According to this newest trailer, Saw 3D introduces a massive step forward in 3D technology—one in which wearing 3D glasses causes objects to literally burst through the screen, and allows even the space behind you to materialize into matter that surrounds your body. Either that, or Lionsgate is embellishing the effects of 3D just a tad, hoping to squeeze as much cash out of the final entry of their waning franchise as they can.
You can also watch the trailer in HD.
The film's synopsis:
Survivors from Jigsaw's (Tobin Bell) previous traps gather to seek support of "self-help guru" and fellow survivor Bobby Dagen (Sean Patrick Flanery), but when Dagen's own dark secrets are revealed, a new wave of terror is unleashed. Meanwhile, Mark Hoffman (Costas Mandylor) and Jill Tuck (Betsy Russell) battle over Jigsaw's legacy.
Saw 3D opens in theaters October 22nd.