Alamo Drafthouse Announces Distribution Arm; First Release Will Be 'Four Lions'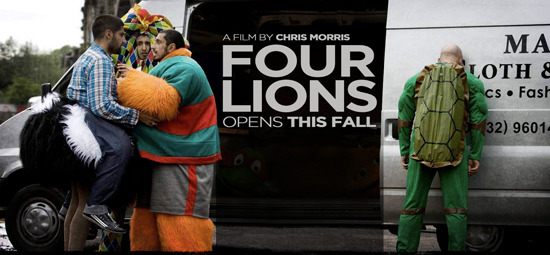 There are great things going on down in Austin, TX at the Alamo Drafthouse. Founder Tim League has created one of the country's more popular film festivals in Fantastic Fest, which kicks off soon, and he's planning to expand the Drafthouse to other cities. But first he'll be bringing films to the entire country through the formation of a new distribution company called Drafthouse Films. The debut release from Drafthouse will be the 'Jihadist comedy' Four Lions, which premiered to good notice at this year's Sundance Film Festival.
In mid-October, Four Lions will go on a ten-city roadshow in advance of a limited New York, LA and Austin opening, after which the film will expand to other cities. Start your guesses now as to what films League will go for after Four Lions. Regardless, best of luck to him and the company. The full press release is after the break.
DRAFTHOUSE FILMS TO DISTRIBUTE "FOUR LIONS", THE ACCLAIMED COMEDY FROM DIRECTOR CHRIS MORRIS
Austin, TX—Thursday, September 9, 2010—Alamo Drafthouse CEO and Founder Tim League announced today that he is expanding the renowned Alamo Drafthouse brand into film distribution under the banner Drafthouse Films (www.drafthousefilms.com). The first film to release under the new label will be Chris Morris's astonishing new comedy Four Lions.
Four Lions is a whip-smart laugh out loud comedy that illuminates the war on terror through satire and farce. Blitzing the notion that a comedy about jihadists is a contradiction in terms, the film grossed an astounding £3M at the UK box office and was hailed by critics as "a brilliant film – astonishingly funny" causing "so many different kinds of laughter its almost incredible".
Writer director Chris Morris based the idea on extensive research. "These cells have the same group dynamics as bachelor parties and five a side basketball teams. Plans are upset by arguments, egos, testosterone and idiocy. Terrorism is about ideology but it's also about doofuses."
Four Lions has taken the festival circuit by storm. Following its sell-out success as the buzz hit of the Sundance Film Festival, Four Lions packed the coveted closing night slot of South by Southwest, won the Independent Camera Award at Karlovy Vary and was voted Best Narrative Feature by audiences at the Los Angeles Film Festival.
"I've been a huge fan of Chris Morris' comedic television and radio for years. To launch our new distribution label with what I consider to be a modern classic is a dream come true," said Tim League.
Four Lions will kick off a 10 city promotional screening tour with Chris Morris in attendance in mid-October. The film is slated to release this fall in New York, Los Angeles and Austin and will expand wider in the following weeks.
About Four Lions
Chris Morris' Four Lions is a funny, thrilling comedy that illuminates modern jihadism through the prism of farce. It understands jihadists as human beings. And it understands human beings as innately ridiculous.
In a British city, four men have a secret plan. Omar (Riz Ahmed) is disillusioned about the treatment of muslims around the world and is determined to become a soldier. This is the most exciting idea Waj (Kayvan Novak) has ever heard. Better still it's a no brainer because Omar does his thinking for him. Opposed to Omar and everyone else on earth is the white islamic convert Barry (Nigel Lindsay). He'd realize he joined the cell to channel his nihilism – if he had half the self knowledge of a duck. Faisal (Adeel Akhtar) is the odd man out. He can make a bomb – but he can't blow himself up just now coz his sick dad has "started eating newspaper". Instead he's training crows to fly bombs through windows. This is what Omar has to deal with. They must strike a decisive blow on their own turf but can any of them strike a match without punching himself in the face?
Four Lions plunges us beyond seeing these young men as unfathomably alien. It undermines the folly of just wishing them away or, even worse, alienating the entire culture from which they emerge. The film is neither pro nor anti religious. The jokes fly out of the characters' conflicts, excesses and mistakes. Crackling with wit and tension, Four Lions is the essential response to our failure to engage with reality and a high toast to the idea that laughter is better than killing.
About Alamo Drafthouse
The Alamo Drafthouse is a lifestyle entertainment brand with an acclaimed cinema-eatery, the largest genre film festival in the United Sates and an online collectible art store. Named "the best theater in America" by Entertainment Weekly, the Alamo Drafthouse Cinema has built a reputation as a movie lover's oasis not only by combining food and drink service with the movie-going experience, but also introducing unique programming and high-profile, star studded special events. Alamo Drafthouse Founder & CEO, Tim League, created Fantastic Fest, a world renowned film festival dubbed "The Geek Telluride" by Variety. Also regarded as the "Comic Con of film festivals" Fantastic Fest showcases eight days of offbeat cinema from independents, international filmmakers and major Hollywood Studios. The Alamo Drafthouse's collectible art boutique, Mondo, offers breathtaking, original products featuring designs from world-famous artists based on licenses for popular TV and Movie properties including Star Wars, Star Trek & Universal Monsters. The Alamo Drafthouse Cinema is expanding its brand in new and exciting ways, including the launch of Drafthouse Films, a new film distribution label and plans to extend its theaters and unique programming philosophy to additional markets across the United States.