Jeremy Renner And Noomi Rapace To Star In 'Hansel And Gretel: Witch Hunters'?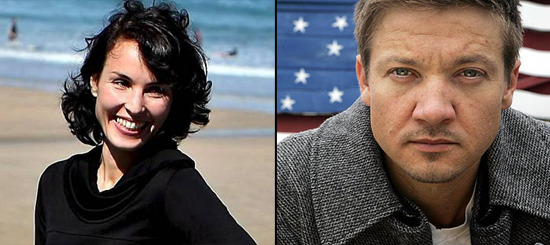 In April of last year, Dead Snow director Tommy Wirkola dropped a weird bomb: his follow-up film would be Hansel and Gretel: Witch Hunters, which catches up with Hansel and Gretel fifteen years after a witch tried to turn them into dinner.
We haven't heard much about the film since screenwriter Dante Harper was hired to write. (He wrote David Fincher's unproduced Black Hole comic adaptation, and All You Need is Kill.) There was recent indication that casting was about to begin for a shoot taking place later this year. Now we've got two names to lead the cast: Jeremy Renner (The Hurt Locker, The Avengers, the new Mission: Impossible) and Nooomi Rapace, famous from The Girl With the Dragon Tattoo.
That's quite a duo. And it's an interesting project for Rapace to get locked into, given that there has been a lot of interest in her move to Hollywood, in the wake of great admiration for her work in the original Dragon Tattoo. (Yep, that's her above. What, never seen her out of Salander's character?) Jeremy Renner dropped the info himself during an interview at the Venice Film Festival. (At Dagsavisen, via Twitch.)
A loose translation of Renner's comments, which went from English to Norwegian and back again (yike) is "I liked Dead Snow, and I like seeing that Scandinavian directors have a combination of horror and humor. I think Hansel and Gretel will be awesome. I play him and Noomi Rapace plays Gretel. They have become adults, are damned and going on witch hunting."
The caveat is that the deals aren't signed yet, but that Renner is talking about it suggests forward momentum, at least.
Adam McKay and his Gary Sanchez Productions got the film going at Paramount. McKay said early on,
The idea is, they've grown up and they hunt witches. It's a hybrid sort of old-timey feeling, yet there's pump-action shotguns. Modern technology but in an old style. We heard it and we were just like, 'That's a freakin' franchise! You could make three of those!'
Early word on the film, which was based only on Wirkola's pitch, is that Hansel and Gretel are essentially witch bounty hunters, and that the vibe is somewhere between Shaun of the Dead and Evil Dead 2. That was before Harper came on to write, so I'm not sure how things have worked out. Attracting Renner and Rapace says a lot, though — they've both got careers on the upswing, and if they're going to agree to do a smaller studio project, I expect they wouldn't jump into a dunking barrel of crap. (Hopefully Renner is on this because he wants to be, and not through some package deal that also landed him Paramount's new Mission: Impossible picture.)