Mad Men's Christina Hendricks Joins Nicolas Winding Refn's 'Drive'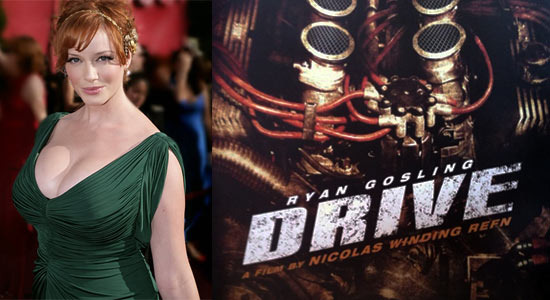 Drive is shaping up to be one of my most anticipated movies of the coming years, and most of that anticipation is based strictly on the casting. The actor line-up so far includes Ryan Gosling in the lead role, Carey Mulligan (An Education) as a potential love interest, Albert Brooks as the antagonist, and Breaking Bad's Bryan Cranston in an unknown role.
And now, another AMC show-stopper has joined the cast: Christina Hendricks, best known as the radiant, full-bodied Joan on Mad Men.
Variety says the deal is already underway, proving that not only can Hendricks fill out a dress, but she can fill out a cast nicely as well. It isn't said who Hendricks will play, though I think it's safe to assume that—unless she's being cast against type—she will exhibit a saucy attitude to go with her rocking hourglass figure.
The film is a crime pic, based on a book by James Sallis, that follows a Hollywood stunt driver (Gosling) who moonlights as a robbery getaway driver. Mulligan plays Gosling's beautiful neighbor, who he must protect after a job aiding her ex-con boyfriend goes south.
Drive marks director Nicolas Winding Refn's first Hollywood studio effort following a successful career making indie films like the acclaimed Pusher trilogy and the curious, compelling biopic Bronson.
Hendricks can next be seen in: the romantic comedy Life As We Know It, the trailer for which can be found here; Leonie, starring Emily Mortimer; and Detachment, the latest film from American History X director Tony Kaye, starring Adrien Brody, James Caan and Lucy Liu.