Geek Deal: Rocky: The Undisputed Blu-Ray Collection For Only $19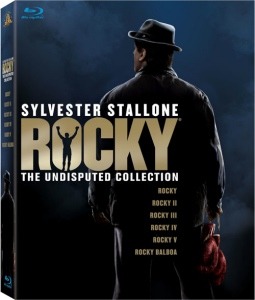 We may receive a commission on purchases made from links.
Amazon's Gold Box Deal of the Day is Rocky: The Undisputed Blu-ray collection for only $19.49, 72% off the $70 msrp. The 7-disc set features all six movies thus far (Rocky / Rocky II / Rocky III / Rocky IV / Rocky V / Rocky Balboa) and the Rocky Anthology Bonus Disc. With all of Amazon's Gold Box Deals, this price will disappear at midnight. So act fast!
The set includes:
Disc 1: Rocky Blu-ray
Disc 2: Rocky 2 Blu-ray
Disc 3: Rocky 3 Blu-ray
Disc 4: Rocky 4 Blu-ray
Disc 5: Rocky 5 Blu-ray
Disc 6: Rocky Balboa Blu-ray
Disc 7: Rocky Anthology Bonus Disc
* Feeling Strong Now! Game
* Rocky Featurettes:
* Three Rounds with Legendary Trainer Lou Duva
* Interview with a Legend – Bert Sugar: Author/Commentator and Historian
* The Opponents
* In the Ring: Three-Part Making-Of Documentary
* Steadicam: Then and Now with Garrett Brown
* Make Up! The Art and Form with Michael Westmore
* Staccato: A Composer's Notebook with Bill Conti
* The Ring of Truth
* Behind the Scenes with John Avildsen
* Tribute to Burgess Meredith
* Tribute to James Crabe
* Video Commentary with Sylvester Stallone
* Sylvester Stallone on Dinah! (1976)
* Stallone Meets Rocky
* Rocky Anthology Trailers: Rocky Theatrical Trailer, Rocky Teaser Trailer, Rocky II Theatrical Trailer, Rocky III Theatrical Trailer, Rocky IV Theatrical Trailer, Rocky V Theatrical Trailer, Rocky Balboa Theatrical Trailer
* Rocky TV Spots: Introducing Sylvester Stallone Critical Acclaim #1 Critical Acclaim #2