Fifth Final Destination Adds David Koechner And P.J. Byrne; May Not Be Called '5nal Destination'?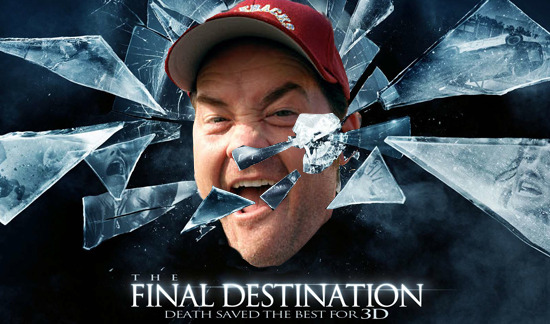 Over the past week there has been some casting movement on 5nal Destination, aka the fifth Final Destination movie. We haven't reported some of it because, well, the movie was called 5nal Destination. And after the last couple films in the series, mustering up enthusiasm for this one is difficult. (Though there might be some reason to hope for a better outcome this time. More on that in a moment.)
Now, in addition to a couple more names, including the returning Tony Todd and surprising addition of David Koechner, there's vague suggestion that someone in marketing or production has come to their senses and the film could be backing away from that ridiculous title.
THR confirms earlier reports by Bloody Disgusting that the cast will now include P.J. Byrne, Miles Fisher, Arlen Escarpeta, Nicholas D'Agosto, Ellen Wroe, Meghan Ory, David Koechner and Tony Todd, who returns as Mr. Bludworth, the 'is he or is he not Death' character that appeared in the first two films.
Koetchner will play "a clueless executive," while D'Agosto will be "a guy who doesn't make fast decisions in his own life," and Byrne plays "an obnoxious kleptomaniac." Finally, Wroe plays "the daughter of a company executive, a woman with gymnast training who is a little snobby and for whom everything is a contest." No data yet on whether her father is Koetchner's character. Hopefully it will be fun to watch them all die.
More important, THR refers to the film as Final Destination 5, "aka 5nal Destination," and Bloody Disgusting says is has been "told by insiders will NOT be titled 5nal Destination."
As we've written before, the film is from a script by Eric Heisserer and will be helmed by James Cameron protege Steven Quale. Quale is a long time associate of James Cameron, recruited out of USC film school by Cameron, beginning his career as a production assistant on The Abyss. He continued as a special projects coordinator on Terminator 2: Judgment Day and True Lies. Quale later made his second unit directorial debut on Titanic, and has credits have since included The Adventures of Rocky & Bullwinkle, The Haunted Mansion, and Avatar, where he was a VFX supervisor.
So that might be reason to hope. Then again, the second film in the series is a lot of fun, and when director David Ellis returned to make the fourth, I'd hoped for more of the same fun, splattery magic. And we saw how that turned out.