First Official Look: Russell Brand And Helen Mirren In 'Arthur'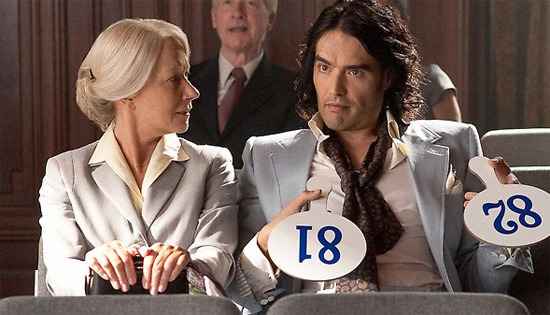 The hook here, I suppose, is that after a string of photos taken by photographers outside the production, we've now got the first 'official' look at Russell Brand and Helen Mirren in the remake of Arthur. Brand plays the Dudley Moore role — a rich, spoiled drunk — and Mirren takes over for John Gielgud as the butler-turned-nanny charged with looking after Arthur.
But beyond the photos are some new details that paint the production as a rather freewheeling one which, to my mind, makes it a slightly more interesting, and definitely more risky, proposition.
The NY Times has the photos, and the details. The core is that writer Peter Baynham, whose script was polished by Jared Stern and then further tuned by the Modern Family writing staff, has actually been on set every day for rewrites. The NYT offers that " the movie's creators are to some extent making it up as they go along," and notes that one scene featuring Greta Gerwig (playing the Liza Minelli role, now written as a girl who scams tourists, rather than a shoplifter) was "largely improvised" at Grand Central Station.
(To highlight how unusual it is to have a screenwriter on set for most studio productions, I'll refer to a comment I recently heard one filmmaker deliver, which is that being a screenwriter on set is like being the hooker who stays for breakfast after she's been paid.)
If you're going to get someone to perform seat of the pants comedy, Gerwig and Brand seem like ideal candidates. And Gerwig was reportedly chosen for her ability to both keep up with Brand and the way she "brought out a sweetness in him." (See Gerwig do something similar in Greenberg, and the latter point is no surprise, either.)
All comedy has to be tuned on set, and so in some respects the working method for Arthur isn't super-unusual. It might just be a little more reliant on being in the moment than most studio comedies. But if the point of giving the NYT access was to increase interest in the film, then mission accomplished. I've been resistant, but casting Mirren and Gerwig helped a lot. And now I'm actually ready to see this one.