Stanley Tucci Reveals Details On Captain America Role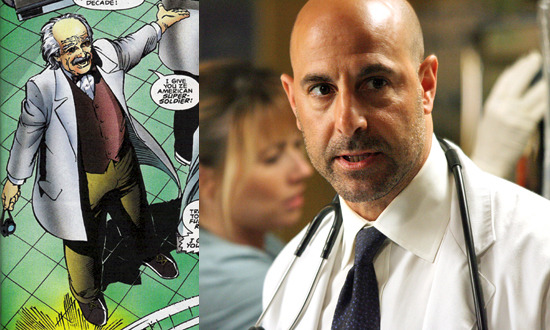 In June it was officially announced that Stanley Tucci was cast as Dr. Abraham Erskine in Joe Johnston's Captain America: The First Avenger. Erskine is of course, the creator of Captain America, the scientist that creates the Super-Soldier serum, which when given to Steve Rogers (Chris Evans) turns him into a perfect physical specimen. Now Tucci has been talking about his part in the upcoming Marvel superhero adaptation while doing press for his latest project, Easy A. So what does Tucci have to say?
Tucci tells ScreenCrave that he does "an accent and is featured in "elderly" make-up/costume for the role.
"When they asked me to play him initially I was like 'Is that like a compliment or is that an insult? I don't know?'"... "I shot with Chris [Evans], and Dominic Cooper, and Tommy Lee Jones and Hayley Atwell. I love the role. It's really well written. I'd never done anything like that before. I've always wanted to do a German accent. It's so much fun. It's really interesting. Very good script, great experience. I was shooting it in London and I go back in a month and a half."
MTV also has a couple choice quotes with the actor, who gushes about the look of the film:
"Joe Johnston is a wonderful guy and I love the way he's shooting it, it's really interesting, it's beautiful-looking There's a real power to it and the design is stunning."
Tucci filmed for a few weeks in July/August, and has to go back and film more scenes in October. You can watch the full interview embedded below: