Shenae Grimes And Lucy Hale Join Scream 4; Script Is 140 Pages?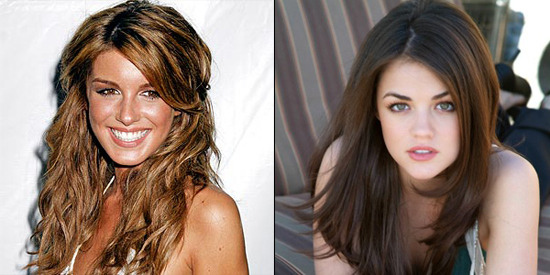 Scream 4 just keeps adding folks to the cast. Recently it was Anna Paquin and Kristen Bell, each of whom is said to have a cameo in the film a la Drew Barrymore's appearance in the original Scream.
Now Shenae Grimes (90210) and Lucy Hale (Pretty Little Liars) have been confirmed as being part of the film. And, if reports are true, the size of the case is not a huge surprise because the Scream 4 script is said to be a monster, clocking in at 140 pages. That's a lot of cheeky horror to shoot.
STYD collated info about Grimes and Hale appearing in the film; Grimes said via Twitter that she is appearing, and Hale has been spotted working on set.
The info about the script comes via THR, which said "the script, according to insiders, is 140 pages long." By way of explanation, the general rule is that one script page equals one minute of screen time. That puts Scream 4 at almost two and a half hours, assuming  that (a) the script is that length and (b) the final edit is very faithful to it.
Now, there's no guarantee, or even a realistic reason to believe, that the final film is going to run that long. But the Scream films aren't your typical svelte horror pictures; the shortest (Scream) runs 111 minutes, while the longest (Scream 2) is 120. I'll take this opportunity to plead for something much shorter this time around; a Scream film that runs well over two hours sounds, at this point, like over-indulgence.
THR also says that the 42-day shoot (not terribly long for a big film) was originally scheduled to end on Labor Day weekend, but has now been extended to September 24. So tack on about fifteen extra shooting days, which is a considerable addition if the original schedule was only 42 days.