Veronica Mars/Party Down Creator Rob Thomas Heads To NBC With 'Temps'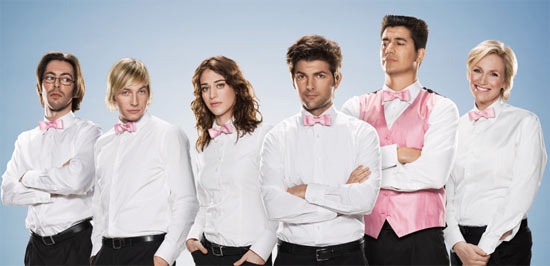 I'm still saddened when I think about the loss of the fantastic comedy series Party Down, which Starz understandably canceled when its ratings failed to reach the same heights as its critical acclaim. But now it looks as though the show may find new life, in the form of a similarly-themed show on NBC. Learn more after the break.
Variety is reporting that Rob Thomas (Veronica Mars, Party Down), along with Jon Enbom and Dan Etheridge (co-creators of Party Down), got the greenlight on a put pilot order by NBC. This just about guarantees that the series will be picked up.
The show is Temps, a single-camera comedy that follows "a group of recent college grads who are forced to take a variety of oddball temp jobs to make ends meet". Somewhat surprising considering the piss-poor numbers of Thomas' last show, their latest pitch generated an "aggressive bidding war".
It's too bad that Paul Rudd is missing from the line-up, as he would've rounded out the Party Down creative team. No matter; Rob Thomas making another show is reason enough for excitement—and that the subject matter instantly recalls Party Down is icing on the cake.
Being that the show is on NBC, it won't be able to have the same edge as the hilariously cynical Party Down, meaning the drug use, profanity and unrestrained vulgarity that helped define that series won't be present. This is a shame, but then, Veronica Mars never felt limited by being on broadcast television, so why should it pose an issue here? I'm confident Thomas and co. will have no problem adjusting their comedic sensibilities accordingly.