First Looks: Jesse Eisenberg In '30 Minutes Or Less'; Uma Thurman In 'Ceremony'; Sean Penn In 'This Must Be The Place'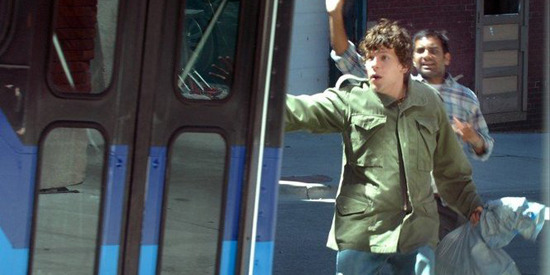 More first looks up today, kicking off with a low-key photo showing Jesse Eisenberg and Aziz Ansari in action for 30 Minutes or Less. If the photos don't thrill you, remember that the film is directed by Zombieland's Ruben Fleischer, and that Danny McBride is also in the mix as a criminal who forces Eisenberg to rob a bank with a bomb strapped to his chest. The script is funny and slightly savage, and I'm looking forward to this one. [Grand Rapids Press via GatW]
After the break, images of Uma Thurman and Michael Angarano in Ceremony, and of Sean Penn in This Must Be the Place.
The Ceremony info and image comes from the TIFF website; the film premieres at the festival. Max Winkler directs Michael Angarano, Uma Thurman, Reece Thompson, Lee Pace and Jake Johnson.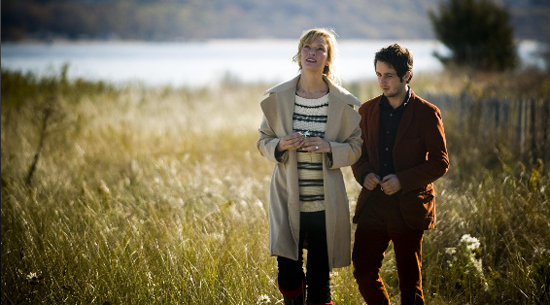 A perpetual adolescent stumbling through his twenties with inflated self-confidence, Sam (Michael Angarano) clings to the naive notions of love and romance that he immortalizes in a series of unpublished children's books. With his sensitive, sycophantic best friend Marshall (Reece Thompson) in tow, he heads to the Hamptons to make a last-ditch effort to woo the object of his infatuation.
Thirty-something publisher Zoe (Uma Thurman) is about to marry Whit (Lee Pace), a self-important documentary filmmaker who's an outrageous cross between Jacques Costeau and "Crocodile Hunter" Steve Irwin. Sam refuses to accept that anyone else could be the love of Zoe's life and, dressed to the nines in a crumpled burgundy suit, crashes Zoe and Whit's wedding reception, determined to prove his point.
Finally, there are on-set photos of Sean Penn in makeup and costume for This Must Be the Place. I remember reading about the film in the past, but don't recall that Penn would be playing or channeling Robert Smith of The Cure. But that's exactly what seems to be the case. What's the film about? "An aging-rocker [Penn] who becomes obsessed with pursuing the Nazi criminal who tormented his father in a concentration camp." Uh, naturally. Totally saw that one coming. Can't wait to see this trailer. Eve Hewson and Frances McDormand co-star. Paolo Sorrentino (Il Divo) directs. [Cinematical