This Week In DVD & Blu-Ray: LOST (Season 6), The Square, Survival Of The Dead, And More
This Week in DVD & Blu-ray is a column that compiles all the latest info regarding new DVD and Blu-ray releases, sales, and exclusive deals from stores including Target, Best Buy and Fry's.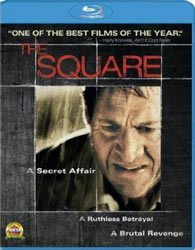 THE SQUARE
There's something so captivating about the caper-gone-wrong genre that, even after you've seen the scenario play out a dozen times before, it still maintains its appeal. There's an inherent thrill in it—the watching of a group of people scrambling to keep their lives from falling apart, while every decision they make leads them further and further to that predetermined destination. Even though you know what's going to happen, you hope that it won't, and you want to keep watching to see if it does. Of course, this is all dependent on how successfully the tale is spun. And lucky for us, the Edgerton brothers know how to spin a tale. The Square isn't perfect, but it's a solid neo-noir thriller that gets the job done, ratcheting up the tension nicely as these normal, flawed individuals seal their fate with mistake after mistake. My one point of frustration with it: halfway into the film, a barely related incident is introduced that really strains believability. Forgiving that, The Square is everything a film like this should be.
Available on Blu-ray? Yes.
Notable Extras: DVD & Blu-ray – Featurettes ("Inside The Square", "Pre-Visualisation", "Visual Effects"), and a short film ("Spider").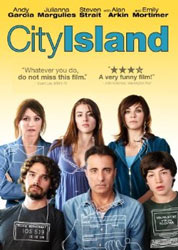 CITY ISLAND
Dysfunctional family dramedies are nothing new to film, but City Island is a cut above most entries in the genre. The film strikes an odd but welcome tone, balancing a bit more conventionally wacky plot devices with an otherwise smartly written and honest portrayal of its bickering, disconnected household. The high concept elements, like the convict who's taken into the home because (unbeknownst to him or anyone else in the family) he's actually Andy Garcia's son, are played believably enough to avoid seeming like overused screenplay devices—in part because the dingy New York setting helps to always keep the surroundings feeling real. With the exception of the youngest son, who gets a weirdly incidental subplot involving a fat girl fetish, all of the actors do a nice job of letting the comedy stem from the situations they find themselves in, rather than overtly playing the scenes as though they're meant to be comedic. All of this builds to a conclusion that's almost farcical in nature, delivering a simple but well-conveyed message about the importance of communication in a family and the consequences of harboring secrets.
Available on Blu-ray? Yes.
Notable Extras: DVD – Audio commentary with writer/producer/director Raymond De Felitta and producer/actor Andy Garcia, "Dinner With The Rizzos" featurette, and deleted scenes. Blu-ray – Includes everything on the DVD, as well as a digital copy of the film.

LOST (SEASON 6)
A single paragraph can only skim the surface of why I believe the sixth season of LOST ruins everything that came before it, so if you're looking for a more thorough evisceration of the series, feel free to check out this article, which I wrote after the series ended. The most blatant point of contention: the mysteries, and their subsequent revelations. Did we get answers? Sure, we got answers. But from a storytelling standpoint, those answers meant nothing. They served no purpose other than to prolong the show, and give audiences a reason to stay invested. Well, congrats LOST writers, it worked; you hooked me. That doesn't make LOST a good show—just a deceptively engaging one. The eventual discovery that everything the show had been building toward was in actuality nothing more than a thoughtlessly constructed series of "Ooh, cool!" events was, honestly, kind of heartbreaking. It was fun while it lasted, but in the end, the six-year journey was just about rendered pointless, and for that, I can't help but feel cheated.
Available on Blu-ray? Yes.
Notable Extras: DVD & Blu-ray – 4 audio commentaries, deleted scenes, bloopers, featurettes ("Lost: On Location", "Crafting a Final Season", " A Hero's Journey", "See You In Another Life, Brotha", "Lost on Location"), and a Lost epilogue.
EXCLUSIVE DEAL:
What? Collectible packaging and bonus disc including 20 minutes of never-before-seen features.
Where? Best Buy.
EXCLUSIVE DEAL:
What? Save $20 when you buy LOST (Season 6) on DVD with any previous season on DVD, or $25 when you buy LOST (Season 6) on Blu-ray with any previous season on Blu-ray.
Where? Best Buy, Fry's.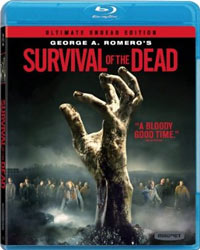 SURVIVAL OF THE DEAD
After the dismal, embarrassingly bad Diary of the Dead, I wonder if Survival of the Dead would be a return to form for Romero. I wish I could take this opportunity to tell you that it is, but after glancing at the reviews, I suspect that I'm probably better off not finding out.
Available on Blu-ray? Yes.
Notable Extras: DVD & Blu-ray – An audio commentary by director George A Romero, a Walking After Midnight documentary, and a short film ("Sarge").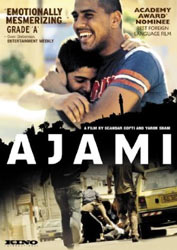 AJAMI
The 97% on Rotten Tomatoes should already serve as a pretty good indicator that Ajami is worth your time. The film is an Israeli character drama that "explores five different stories set in an actual impoverished Christian-and-Muslim Arab neighborhood". Here's the trailer.
Available on Blu-ray? Yes.
Notable Extras: DVD & Blu-ray – Ajami: The Story of the Actors, and deleted scenes.
Other noteworthy DVD (and Blu-ray) releases this week...
LOST (The Complete Collection) [DVD / Blu-ray] – The Simpsons (Season 13) [DVD / Blu-ray] – Dorian Gray [DVD / Blu-ray] – The Back-up Plan [DVD / Blu-ray] – Yoo Hoo, Mrs. Goldberg – Three Silent Classics By Josef Von Sternberg (Criterion Collection)
Noteworthy Blu-ray-specific releases this week...
Shogun Assassin (30th Anniversary Collector's Edition) – Time Bandits – Withnail and I

NOTES: Some deals may vary by store. Some deals may be in-store only. All deals are for DVDs unless otherwise noted.

$6.99 – The Departed, Groundhog Day, Vicky Cristina Barcelona, The Karate Kid, The Golden Compass, and more...

$14.99 – Friday Night Lights (Season 3)
$19.99 – Dexter (Season 3), Supernatural (Season 4), Smallville (Season 7), The Big Bang Theory (Season 2), Family Guy (Vol. 7)
$9.99 DVD or $14.99 Blu-ray – Crazy Heart, Hot Tub Time Machine, Percy Jackson and the Olympians: The Lightning Thief

$9 – Blu-ray: Boogie Nights, Wedding Crashers, Heat, Body of Lies, The Devil's Own, I Am Legend, Rush Hour 3, Sex and the City: The Movie
$10 – Blu-ray: The Big Hit, Donnie Brasco, Go, Hellboy, National Security, No Way Back, Rudy, Secret Window, Talladega Nights: The Ballad of Ricky Bobby, Vertical Limit