Movie Trailer: Aussie Thriller 'Red Hill'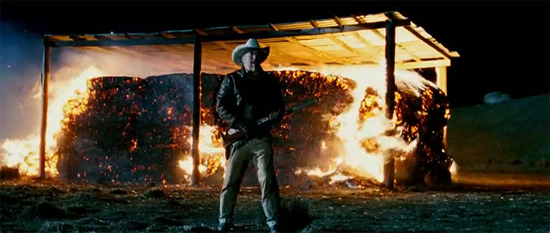 Red Hill takes a classic small thriller concept — a few lawmen trying to hold off an aggressive criminal — and looks as if it infuses it with some Western influence and maybe a little touch of noir. Bring in some great cinematography and True Blood's Ryan Kwanten as a wounded officer just looking for the quiet life, and you just might have something.
Ignore the dramatic intertitles on this trailer and just pay attention to the images. I've heard good and bad about the plotting and pacing of the film, but I'm so taken with the visuals that I'm ready to take a chance on it. The trailer's music is over the top (and some reviews peg the movie's music as being similarly overbearing) but I'm hoping there's enough quiet menace in the full feature to match the shots we see here.
And if it does work, then writer/director / producer/editor Patrick Hughes might be one to watch.
The film opens in Australia on December 2. But I'm showing this to you because Strand Releasing has picked up the US rights to the film, and will actually release it here before it hits Australia: Strand's date is November 5. [IndieWire]
RED HILL follows young police officer Shane Cooper (Ryan Kwanten) as he relocates to the small country town of Red Hill with his pregnant wife Alice (Claire van der Boom) to start a family. But when news of a prison break sends the local law enforcement officers – led by the town's ruling presence, Old Bill (Steve Bisley) – into a panic, Shane's first day on duty rapidly turns into a nightmare. Enter Jimmy Conway (Tom E. Lewis), a convicted murderer serving life behind bars, who has returned to the isolated outpost seeking revenge. Now caught in the middle of what will become a terrifying and bloody confrontation, Shane will be forced to take the law into his own hands if he is to survive.