Werner Herzog: Plans Desert Epic And Prison Film; Answers Fan And Press Questions Via YouTube

It's a big week for Werner Herzog fans. His new documentary, the 3D-shot Cave of Forgotten Dreams, will soon screen at the Toronto International Film Festival, and the first images have been revealed. (Above, for example.) And My Son, My Son, What Have Ye Done?, the film he made with David Lynch producing, is hitting DVD in a couple weeks, so Herzog is doing the press rounds talking about that movie.
Some of the ensuing interviews are traditional press, in which he revealed that he's got plans for at least two new films: a desert epic and a film set in a Texas maximum-security prison. And the director has spent this afternoon answering fan questions submitted via Twitter, with the video answers posted to YouTube.
First up is the detail on those two possible new pictures, which comes via an interview Herzog did with The Playlist.
I have written a screenplay now for a big epic, which certainly will not use 3D...We're in the first phase, but it's a big epic film set in the desert and I've also started another film in Texas, in a maximum security prison.
The big epic seems to be a dramatic film, but the latter prison picture could be a dramatic feature, or a doc. That part is unclear right now. Meanwhile, the director is clearing a few other questions up thanks to a set of Twitter questions. The questions range from the sorta-silly ("why are you such a badass") to much more practical matters. And he explains wanting to kill Klaus Kinski with a snow shovel. Here are a few answers — link through to the Twitter link above for many more.
And here's information on Cave of Forgotten Dreams, which comes via the TIFF website. The film premieres in early September in Toronto, just before My Son, My Son, What Have Ye Done? hits DVD on September 14. The Cave doc sounds fantastic, and having thoroughly enjoyed Encounters at the End of the World, one of Herzog's last TIFF entries, I'm looking forward to it. And if Herzog can make 3D work? Blam.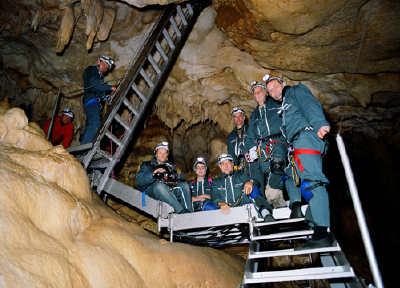 Werner Herzog is a wizard at conjuring unforgettable visions..Now he brings us the earliest known visions of mankind: the Chauvet-Pont-d'Arc cave art of southern France, created more than thirty thousand years ago. By comparison, the famous cave art of Lascaux is roughly half as old. Since Chauvet's discovery in 1994, access has been extremely restricted due to concerns that overexposure, even to human breath, could damage the priceless drawings. Only a small number of researchers have ever seen the art in person.
Herzog gained extraordinary permission to film the caves using lights that emit no heat. But Herzog being Herzog, this is no simple act of documentation. He initially resisted shooting in 3D, then embraced the process, and now it's hard to imagine the film any other way. The 3D format proves essential in communicating the contoured surfaces on which the charcoal figures are drawn. Beyond the walls, Herzog uses 3D to render the cave's stalagmites like a crystal cathedral and to capture stunning aerial shots of the nearby Pont-d'Arc natural bridge. His probing questions for the cave specialists also plunge deep; for instance: "What constitutes humanness?"