Fantastic Four Reboot Casting Rumors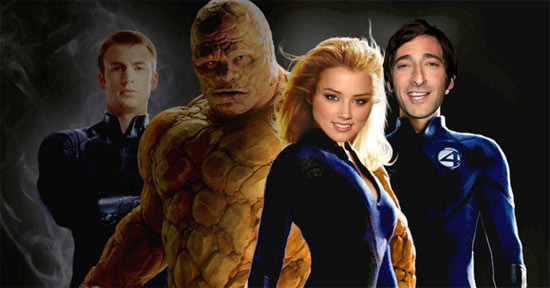 When word first came out that a Fantastic Four reboot would be made, /Film asked if you guys cared. The consensus?
A resounding: "Meh."
But could anything change your minds? How about the casting of Adrien Brody and Amber Heard?
Those are two of the rumored casting possibilities currently being floated by Screenrant and Comic Book Movie, the former of which also notes Jonathan Rhys Meyers as being in the running for the same role as Brody. According to their sources, 20th Century Fox have been pursuing the trio as replacements for the parts of Mr. Fantastic and Sue Storm aka the Invisible Woman, characters who were previously portrayed by Ioan Gruffudd and Jessica Alba, respectively. I assume all but the most gender-confused will be able to deduce on their own which actor is intended to play which part.
Comic Book Movie also states that Fox has been looking at Kevin Pennington, a mostly unknown young actor who has starred in several episodes of the revamped 90210, to take over as Johnny Storm aka the Human Torch (previously played by Chris "Captain America" Evans).
Seeing as how Fox has no plans to start production on the Fantastic Four reboot (which is no longer being referred to as Fantastic Four Reborn) until after X-Men: First Class is completed, there's a good chance that none of these casting possibilities will come to fruition, but they're interesting to consider nonetheless—as is the prospect that Fox plans to do away with the prosthetics and have The Thing be 100% CGI.
Though I'm mixed on having Jonathan Rhys Meyers as the leading member of the team—as effective as he was in Match Point, his presence in From Paris with Love was sorely lacking—the idea of Adrien Brody (who's both talented and already pretty elastic-looking) playing Mr. Fantastic is enough to revitalize my interest in the Fantastic Four franchise. I wish I could say the same for Amber Heard, but she's sadly not been given too many opportunities to prove what talent she has outside of being frequently-nude eye candy. Not that there's anything wrong with that.