John Woo Wants Liam Neeson To Star In 'Flying Tigers' IMAX Movie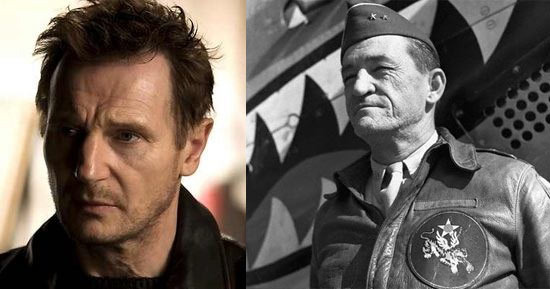 There's finally been some movement on John Woo's next period war epic, the '40s aerial fighter movie which we first heard about over a year ago. It was tentatively being referred to as Flying Tiger Heroes, but the title has now been shortened to the snappier sounding Flying Tigers.
Who's Woo looking to cast in the film? There's no certainty that this will ever happen, but his ideal candidate is Liam Neeson. Find out more about what he had to say, and about the film's IMAX prospects, after the break.
Here's what we already know about the film: it's claimed to be the most expensive Chinese production to date, with a $90 million budget, and it will feature a mix of Hollywood and Chinese movie stars. The movie is based around The 1st American Volunteer Group, also known as the Flying Tigers, who destroyed 300 enemy aircraft while flying missions against the Japanese during World War II. Woo has claimed that the film will contain "the most spectacular aerial battle scenes ever seen in Chinese cinema".
Now, a recent report from The Hollywood Reporter has divulged further details about the production. The film is finally set to go into pre-production in China in September, and Woo will be working with IMAX CEO Rich Gelfond to figure out how best to utilize the IMAX's massive screen. Gelfond shared: "Woo's passion and the story lend themselves in scope to an IMAX film. John is so visual and his great talent will help us from the start to make sure that the IMAX version of [Flying Tigers] realizes the technology's potential."
When discussing who should play the lead role of U.S. Army Air Corp Lt. Gen. Claire Lee Chennault—the contentious officer who commanded the Flying Tigers during World War II—Woo revealed that he already had somebody in mind: "It's got to be a star but it's hard to find the right one, because at that time Chennault was almost 50 years old. Ideally, I've been thinking of Liam Neeson as the title actor."
Woo also a Chinese actor in mind to play opposite Neeson: Ye Liu, who some may remember as Crown Prince Wan in Curse of the Golden Flower. Liu would be playing a young pilot being trained by Chennault.
I've grown a tad weary of large-scale war epics of late (and Asian cinema has certainly cornered that market), but Neeson's presence in anything is enough to get me interested in a film, even if it is only being hinted at. It's also nice to see Woo continuing his leave from Hollywood movies, as none of his decade's worth of American productions have compared to his earlier work, with the exception of maybe the trashy fun that was Face/Off.
Woo's most recent film, the two-part historical epic Red Cliff, earned him more acclaim than he's had in years. Maybe that movie, which saw his return to China, was exactly what he needed to get him motivated again. War epic or not, I'm eager to find out if Flying Tigers can continue the trend.